Blog
Business benefits of a sustainability strategy
Sustainability is no longer just a buzzword. Increasingly companies are required by local government or investors to report out their carbon emissions. Today's businesses have a lot to gain from moving beyond reporting and employing an effective sustainability strategy. In this installment of our ongoing series to demystify all things sustainable, we'll be dissecting the most notable benefits of sustainability in 2023. Keep reading to learn how implementing a sustainability strategy can help your organization tackle the following:
Improve financial performance
Reduce energy and operational costs
Mitigate long-term risks and expenses
Appeal to investors
Attract global connections
Boost employee satisfaction
Enhance brand reputation
1. Improve financial performance
Sustainability strategy can improve your overall financial performance through mediating factors. These mediating factors encompass results from your sustainability initiatives such as better risk management or innovation. Current research indicates the strongest mediating factors are stakeholder relations, risk, operational efficiency and innovation.
According to research by the Stern Institute, companies that prioritized disclosure experienced a 26% positive correlation with financial performance, compared to 53% of companies that implemented an emissions reduction strategy. This shows us that while measuring and disclosing emissions data is important, putting that data to use is where companies can reap the best financial gains.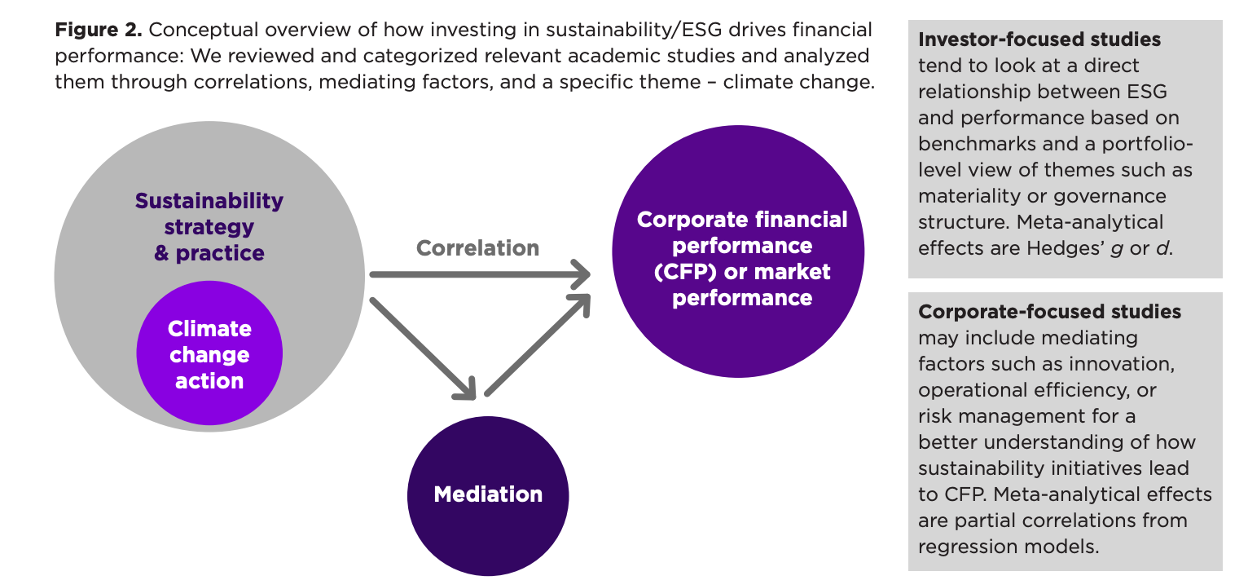 Graphics from the Stern Institute.
2. Reduce energy and operational costs
You can't set carbon reduction targets without first knowing how much carbon your business uses and where that carbon is allocated.
Large buildings not tracking energy consumption easily lose control of energy usage. The average commercial building wastes about 30% of the energy consumed. When you start tracking how much energy is used and where, you find areas where your business needlessly bleeds energy, raising utility bills in the process. 
Energy management solutions help businesses optimize energy efficiency, lowering utility costs and carbon emissions simultaneously. In many cases, these fixes don't even require significant changes to business processes– they're simply a matter of identifying and eliminating wasted energy.
Emissions tracking can guide your operations workflows, illuminating inefficiencies that waste energy. For example, you can identify a shift in working patterns that will require fewer vehicles on the road or move your depot to the spot with the widest coverage. In this example, saving energy by keeping vehicles on the road for as little time as possible prolongs equipment lifespans. Because this strategy saves time, it can also reduce labor costs. 
Sustainability efforts can also lower operational costs in cases where equipment and materials that produce fewer emissions are more affordable to purchase. While many sustainable alternatives– like electric cars– are far more expensive than the alternatives, this isn't the case for all equipment. Take highway barriers, for example. They are typically made of steel, meaning their manufacturing produces a lot of emissions. Researchers are currently developing sustainable alternatives made of stress-resistant wood composite. These materials are less expensive and produce fewer emissions in manufacturing than their steel predecessors.
3. Mitigate long-term risks and expenses
In a comprehensive meta-analysis, 51% of companies analyzed showed a positive correlation between better financial performance and managing climate change-related physical risks.
The impact of climate change on weather patterns can no longer be ignored. Extreme weather events are ravaging the planet, forcing businesses to budget for property damage and preventative measures that reinforce buildings to withstand future natural disasters.
Coexisting with these volatile weather patterns is going to require extreme adaptation methods. Companies on the coast will have to purchase sandbags to prevent flooding, build walls, pile drive, lift buildings, etc. In the long term, extreme weather patterns may cause land degradation that could interfere with our food supply, which could negatively impact customers.
As the world unites to lower rising temperatures, the extreme weather patterns should calm. The cost of property damage and constant adaptation will halt, making the return on investment for emissions reduction astronomical.
4. Appeal to investors
Investors interpret positive ESG performance as a sign of future stock performance and a risk deterrent in times of economic crisis.
This is based on data showing that companies prioritizing sustainability consistently outperform the broader market. The numbers are pretty convincing– here are some examples:
The S&P 500 ESG index outperformed the broader S&P at reporting periods for the last 10 years.
Morningstar's broad 373-stock US Sustainability Index got a 29.1% return in 2021, performing 3% better than the stock market as a whole.
The 50 companies with the highest ESG scores outperformed the US market by 8%, with a yearly return of 33.3%.
Stocks with high ESG performance are more resilient in times of market-wide financial crisis, giving sustainable companies an edge in today's volatile markets. The more sustainable your company is, the better your chance of appealing to investors in an economic downturn.
5. Attract global connections
Europe is a step ahead of the United States where business regulation regarding climate change is concerned. As a result, maintaining a transparent sustainability strategy can help US companies fast-track global expansion efforts.
The United Kingdom's net zero strategy calls for a 50% reduction in commonwealth-wide emissions by 2030, with the goal of reaching net zero emissions by 2050. While the European Union's "Fit for 55" mandates a 55% reduction in emissions by 2030 and net zero emissions by 2050. The key of these strategies is that every single company and local authority must reach these targets.
Conversely, disclosure requirements are less rigorous in the United States, including the proposed SEC rules for climate-related disclosures. While the US has rejoined the Paris Agreement, as of this article, Congress has not mandated a nationwide climate transition plan requirement for businesses.
Because the country lags behind, US companies that prioritize sustainability according to international standards will have greater appeal on the global stage than those that do nothing. This can be a key differentiating factor for companies pursuing global expansion.
6. Boost employee satisfaction
Employees want to be part of an organization that is actively upholding sustainability initiatives and protecting the planet we call home. In a 2022 survey, 32% of respondents said they would only work for an employer that prioritizes sustainability. The survey also found that:
35% of respondents said it would improve productivity rates
31% believe it would position their company as a leader
37% believe it would create more innovation opportunities
43% believe it would improve workplace culture
Implementing sustainability initiatives can make your organization more attractive to top talent. When employees watch their employer uphold shared values, they feel supported, appreciated and satisfied with their work. Teams build stronger connections and become more productive and engaged over time.
7. Enhance brand reputation
When an organization invests time and resources in building a sustainable future, customers take notice. The risks posed by rising temperatures are not business-specific.
In 2022 alone, the United States experienced 18 climate disaster events. Together, these events claimed 474 lives. Affected communities also faced economic distress throughout the aftermath. Damages caused by each event totaled more than $1 billion.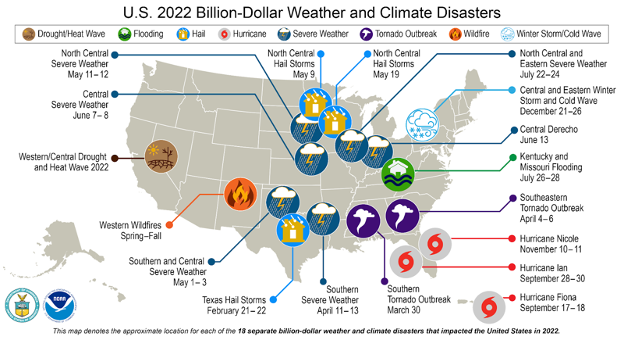 Graphic from NOAA.
The direct impact climate change has on our daily lives is becoming difficult to ignore. Consumers are more aware than ever before and are using their money to support companies actively addressing their role in the climate crisis. In a 2020 McKinsey survey, more than 60% of consumers said they would pay more for products with sustainable packaging.
Organizations that prioritize sustainability by reducing, reporting and offsetting emissions receive their customers' gratitude and respect. These companies earn a reputation for accountability, transparency and decency. Those not taking action receive the opposite sentiment. According to a NielsenIQ survey, 77% of respondents would stop buying products from a company accused of greenwashing.
In summary
Despite the slow rise of climate regulation in the United States, the list of reasons to implement a sustainability strategy is growing. The benefits discussed above are only the beginning. Reducing your businesses carbon emissions is as vital as any other strategy to stay competitive in today's economy. Talk to a Brightly expert today about how to start building your sustainability strategy.