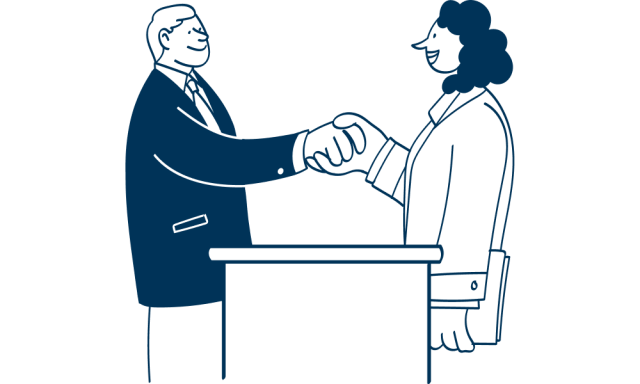 Built for the way you work
Enterprise Asset Management is decentralized and inefficient. Every asset from a different era, every data point in a different dashboard, every department trained on a different system. Selecting the right enterprise asset management solution with the right partner makes this patchwork of tools, technology and talent a thing of the past. 
Brightly's industry-leading EAM solutions enable you to:
Make smart investments in your assets
Prioritize cost of operations
Build sustainable, safe and thriving communities
Enterprise asset management for smarter assets
Make sense of processes and tasks
See the full picture of your assets – across facilities – with Asset Essentials. So you can make smarter decisions that keep your entire operation running smoothly.
Increase maintenance productivity
Create reactive, corrective, predictive and preventative maintenance work orders. All in a single solution. And prioritize, schedule and manage tasks with total clarity into what needs to happen when.
Make smarter moves with more data
When you use our computerized maintenance management system (CMMS) platform, all data points in and around your organization are collected and put into context for insightful analytics that help you manage today and plan for tomorrow.
Reduce costs and extend runtime
Easily schedule preventative and predictive maintenance tasks to extend the life of your assets and get the greatest possible return on your investments.
Efficiently manage your inventory
Streamline how you manage your inventory of frequently used parts for just-in-time maintenance while optimizing your procurement/replenishment processes.
Create an on-the-go workforce
Give your technicians the power to capture parts transactions, access reference materials, track work orders (even when in offline mode) and scan assets with their mobile devices.
Asset Essentials
A smarter CMMS for care providers
Healthcare and senior living facilities are devoted to giving the best possible care to patients and residents. TheWorxHub clears the way to let them do so – by empowering you to manage assets, maintenance and compliance efficiently.
Improve patient and resident care
Simplify your operations workflow and asset management to create and maintain a comfortable environment for everyone. And ensure critical assets stay up and running.
Get more done the smart way
Connect work, physical assets, departments and projects together on a mobile-friendly solution. And keep communication open between team members for greater transparency and real-time updates.
Make more informed decisions
See the current state of your entire operations with a glance of your dashboard, and share your analysis with reporting functionality that makes keeping others in the loop much easier.
Stay compliant with confidence
Assess risk, create preventative maintenance workflows and know where you stand with current regulations. Make moves to avoid non-compliance. And easily reach for documentation to prove you are compliant.
TheWorxHub
Success Story
Pepsi Bottling Ventures Client Success Story
Client
Pepsi Bottling Ventures LLC
Garner, North Carolina
Pepsi Bottling Ventures gains significant time and labor savings with asset management solution
"They are always coming out with new updates and integrating the feedback we give them. We consider them a partner and look forward to future successes together."
Success Story
Robert Morris University Client Success Story
Client
Robert Morris University
Moon Township, Pennsylvania
Robert Morris University deploys mobile work order management and increases productivity with work and asset management
"It's the one tool we use which enables us to drive productivity, efficiency and really have a grasp on the maintenance work. It really helps link some of my goals, objectives and metrics in a meaningful way that I can report on."
<1% of work orders exceed 7 days
Heart of America Medical Center finds efficiencies in mobile app
"The turnaround on work orders is faster now. The small work orders are done quickly and efficiently. The guys take what they need because they know where they're going. It is pretty self-sufficient."
Our asset management clients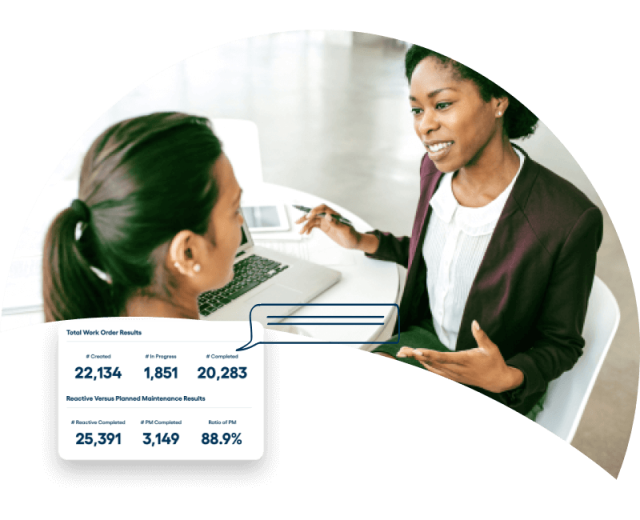 Your partnership is our priority. Here's what you can expect
We're with you every step of the way, right from the start. We guide your implementation and help with software integrations.

Meet the highest standards of security and reliability. Not only will your data be made safe, but we'll also make sure your transition is seamless.

See your data visualized in context. So you can reduce cost, time and labor expenses with faster insight into your productivity, spending and more.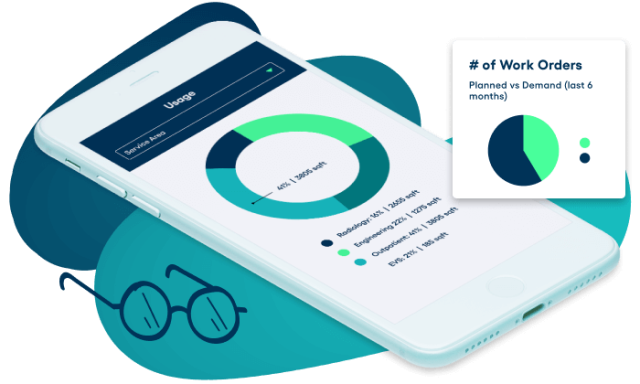 Want to gain greater visibility into the performance of your individual and collective assets?
Let us show you how data-driven enterprise asset management system can help!