Blog
The Best Asset Management Software for Schools: Maximizing asset usage for K-12 and higher education
Running a successful educational institution is no small feat. With high stakes and low funding to contend with, asset management software is crucial for any school hoping to achieve smooth, efficient operations.
Education funding is notoriously volatile. Delaware's K-12 spending decreased by 12.8% from 2018-2019 to 2019-2020, and New Mexico raised its spending by 9.3% during that same period.
Students need schooling resources to succeed. Most states struggle to achieve flat funding across all socioeconomic demographics, despite the fact that high-need settings require more resources than low-need settings to achieve similar outcomes.
When schools don't have the funding to get the resources they need, they end up compromising on quantity, quality or both, which directly impacts student outcomes.
Increasing school funding by 10% per pupil for all students raises the probability of high school graduation by 7% for all students and 10% for low-income students. This impact remains strong throughout adulthood, leading to a 9.6% increase in adult hourly wages and a substantial decrease in adult poverty rates.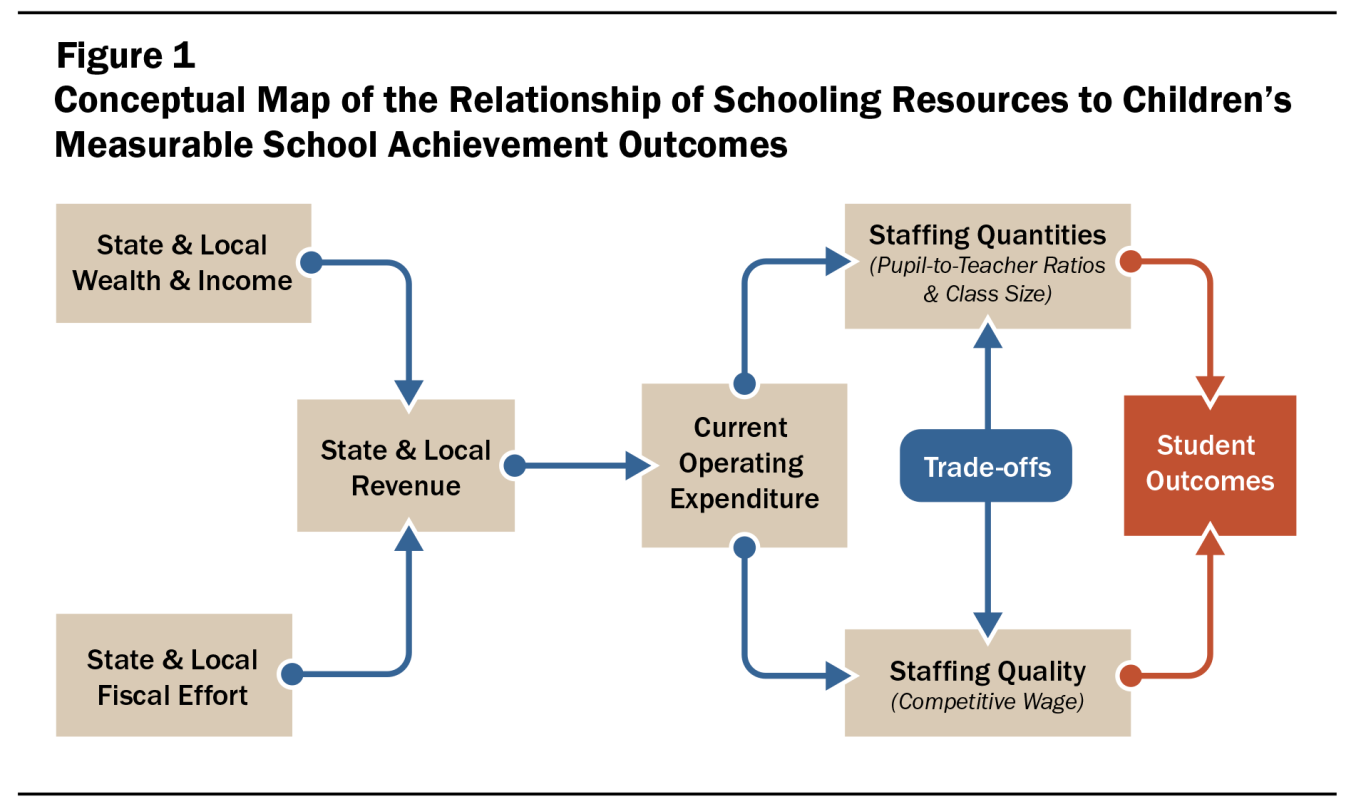 While schools can't dictate how much money the state or donors hands over, they can optimize resource management to squeeze every drop of value out of the budget and resources they do have.
Asset management software helps schools improve student outcomes, maximize budget utilization and operations efficiency by:
Improving facility management workflows
Saving time
In-depth event planning
Controlling energy usage
Asset management
Predicting future needs
Schedule a demo to see these effects in action.
Manage facilities and improve maintenance workflow
Tight budgets and disparate departments make keeping a close eye on every last asset essential. When schools can't see what assets they have, where those assets are and what condition they are in, they can't plan accordingly. Maintenance becomes reactive rather than proactive, and every second of resulting downtime impedes student education. Informed budget decisions become impossible, leading to inefficient funding that falls short of giving students and teachers the resources they need.
Asset management software creates transparency for all assets in a school's portfolio. Schools use a centralized platform to quickly identify what assets they have, what they need, what needs proactive maintenance, etc. The results– maintenance workflows are smoother, students and teachers have what they need and administrators can stop playing whack-a-mole with a never-ending supply of maintenance disasters.
In short, asset management software improves facility and maintenance management through:
Eliminating the need for manual asset audits, saving time and money
Securing assets with improved record-keeping accuracy
Distributing multiple work orders at once, streamlining maintenance workflow and eliminating the backlog
Planning and scheduling preventative maintenance to extend asset life and maintain operational efficiency
Optimizing communication, letting people know what work takes priority and notifying technicians of changes in that priority and new work orders to keep the team agile
Save your school time and money
Service-based lifecycle degradation paths and proven algorithms at the component, asset, asset type or asset class level enable accurate portfolio health forecasting.
The data-driven insights and reporting tools enable schools to carefully monitor the effectiveness of reactive and preventive maintenance on all assets to extend asset life, predict future asset health and create strategic maintenance plans for maximum impact.
Detailed record-keeping identifies maintenance trends, revealing problematic assets early on and giving you the chance to weigh the cost and benefit of repairing or replacing the asset.
Efficient maintenance and informed purchasing decisions both reduce operations waste by extending the life of current assets and ensure new purchases are made only when necessary.
Schools can use predictive asset management software components to:
Predict the future health of all systems and assets you manage
Communicate decisions using accurate data and visualizations, across roles
Balance community needs, funding requirements and asset health
Make data-backed budget decisions and justify funding requests
Compare funding scenarios
Schedule events from beginning to end
Event Management software helps schools make the most of their facilities with features that help schedule, organize, promote and recover costs from events and facility rentals. 
Schools can use this software to simplify both internal and external communication. Customizable branding tools streamline the way they promote events and market rentable facilities. 
The positive community experience simplifies event management, providing better visibility across the school by centralizing event and facility information in a cloud-based platform. Users can feasibly handle event and facility requests, communicating any changes to stakeholders. This eliminates headaches like double-bookings, overlapping schedules and complicated invoicing. 
Lastly, asset management software lets schools automatically create data reports that provide deeper insight into how key metrics impact their bottom line. 
Helpful features include:
Data-rich dashboard and reporting
Ability to publish and promote events
Community event portal
Easy invoice management
Convenient integration
Control your school's energy usage
Energy management software helps eliminate utility waste, saving money and furthering sustainability goals in the process.
Energy management tools give schools visibility into utility waste. Utility management is centralized in software that provides data reports to inform operational decisions, prioritize actions and eliminate waste.
Schools can use the centralized utility data to reduce utility costs, track energy-saving initiatives, make informed decisions, identify energy waste and associated costs, automate bill entry to optimize operational efficiency and gain clear insight into their carbon footprint to create an effective sustainability strategy.
Use this software to:
Prove and communicate success to stakeholders
Respond quickly with real-time data
Track energy-saving initiatives
Identify energy waste and become more sustainable
Improve School Efficiency with our Asset Management Suite of Tools
Brightly's Asset Management Suite has everything necessary to get the most out of a school's asset portfolio and limited budget. Here is a quick overview of how our tools help educational institutions:
Asset Essentials
Asset Essentials is the best computerized maintenance management system (CMMS) on the market. It offers advanced mobility, centralization and robust reporting.
Mobile work order software increases maintenance productivity. Capture parts transactions, access reference materials, track work and barcode-scan assets without needing to visit the school office first. Predictive and preventive maintenance capabilities help schools extend asset life, optimize labor resources and shift from reactive repairs to proactive maintenance, all while reducing asset downtime (which maximizes student learning time).
IoT remote monitoring optimizes labor resources and detects asset failures before they become costly. GIS mapping integrations allow schools to assign work orders based on location, increase visibility across multiple schools and reduce windshield time for technicians through accurate asset locations.
Predefined reports and dashboards present KPIs that help you manage work, resources, inventory, budgets and equipment. This helps benchmark school performance, optimize future maintenance and budget for future needs.
Predictor
In essence, Predictor is capital planning software. It's a full asset lifecycle predicting modeling and capital planning software that models funding scenarios so you can make informed investment decisions and use powerful data to support funding requests.
Predictor is a powerful tool designed to help you strategize asset management long-term. It leverages industry-specific algorithms and condition-based degradation profiles to model long-term funding and service scenarios so that you can see the potential impact before making important decisions.
Tailored dashboards and reports display this information in a digestible format and can be shared with a single click, simplifying the process of justifying funding requirements and communicating impactful data to stakeholders. 
Event Manager
Schedule, organize, promote and recover costs from events and facility rentals all in one place. Take charge of your facility rentals and event organization and create a positive community experience with our user-friendly event management platform.
The software enables easy event promotion and streamlines all event management processes, helping schools recover event costs and increase rental revenue. Sophisticated reports reveal the impact of events on the school's bottom line.
Because the software is cloud-based, all event and facility information is accessible anywhere by any stakeholder. The platform also facilitates easy communication of event and facility requests or changes (and prevents users from double-booking in the process).
Invoice management capabilities ensure a convenient online payment process for both school administration and event holders. You can create, send and track invoices without leaving Event Manager. 
Energy Manager
Energy Manager simultaneously optimizes utility processes and usage. Schools can unite all utility management functions in one automated tool, which helps them to reduce usage and save time on operations.
All stakeholders can access utility usage data from anywhere via the cloud-based software.
Energy consumption is displayed in a centralized dashboard, showing trends, costs and usage for all utilities in real time. Sophisticated reports track and compare historical usage data and present cost-saving opportunities.
Reports measure ROI on energy-saving capital projects and outline checklists for walkthroughs.
The tool also offers advanced carbon emission monitoring tools that help schools realize and lessen the impact of carbon emissions. This data can be used to develop sustainability programs and back sustainability claims.
Utility management is made simple through automated bill entry. Import tools, interval data recording and electronic data interchange (EDI) services save time and prevent redundant data entry. 
Origin
Origin optimizes labor and capital resources, helping schools realize the true health of their assets. CMMS standardization and optimization aligns work order and preventative maintenance data with capital planning, enabling critical visibility into asset health in real time.
Risk ranking capabilities eliminate the risk of asset failure by prioritizing maintenance needs based on probability and the impact of asset failure.
Use this tool to enact a strategic approach to asset management. Know which assets need attention, mitigate risks and gain insight into the impact of aging assets.
All this data shows the true cost of deferring maintenance with models that depict the impact of cutting or increasing labor spending to keep facilities operating at peak performance without overspending.
This is essential for limited-budget schools facing difficult choices when it comes to what assets need replacing and what can be deferred. Transparency and sophisticated reports show schools how to prioritize asset portfolios and where to focus maintenance budgets.
School Success Stories
Our education clients are reaching goals and achieving fantastic results by implementing asset management software. We've included some recent success stories below, and you can always find more here.
Oconomowoc Area School District
Oconomowoc School District had been a long-time user of Brightly legacy products. While these products provided their team with the tools necessary to manage work orders, they chose to upgrade to Asset Essentials for a more robust, efficient solution with an intuitive user interface.
After making the switch, team members were able to bulk assign and edit work orders 5 times faster. They could update tasks and get work order details in real-time with the mobile app, regardless of physical location. Plus, their new dashboard showed 50 work orders, increasing their visibility 5 times.
Here's what Tracy Peterson, Operations Manager at Oconomowoc School District, has to say about the change:
"I've seen other programs at conferences, but Asset Essentials looked like the best program on the market," says Peterson. "I've been a huge supporter of Brightly for years. We loved SchoolDude, and now we really love Asset Essentials… The more I dive into Asset Essentials, the more shortcuts I find… Asset Essentials is super helpful."
Christian Academy
Christian Academy came to Brightly searching for an online solution to improve the positive impact of maintenance management. They significantly lowered operations costs after implementing Brightly's new work order system. The new system is much more efficient than their old paper system. They are now completing 2,344 work orders per year and saving $219,420 annually.
In addition to bringing immediate cost savings, the new system improved communication and increased accountability.
"Technicians can now look at work well in advance, check equipment history and schedule the next week's work by priority," says Goerge Skeeters, Director of Facilities.
Georgia College & State University
Georgia College & State University made the switch to Brightly after realizing their prior system was clunky, outdated and didn't facilitate necessary data collection or proper communication.
With Brightly, they were able to create a mobile workforce that generates data-based reports. Both technicians and students are actively using the system with ease.
"We know students, as well as their parents, expect immediate response to requests. Days, or even hours, to respond are not acceptable. Satisfaction with prompt service leads not only to retention of students in the residence halls, but retention at Georgia College," says Larry Christenson, Executive Director of University Housing.
Here's a look at their results:
Average work order completion dropped from days or weeks to 24 hours
They completed approximately 18,775 work orders were completed in one year
They can now generate reports that break down specific costs per building
Reports show savings that can be made through optimizing energy spending (like switching to energy-efficient LED bulbs)
Real-time, immediate results through collecting time spent on each job
Mark Duclos, Assistant VP of Facilities and Operations, responded to the results by saying: "Brightly has revolutionized how we accommodate the customer here at Georgia College. It allows the response time to fall well within the desired four to 24 hours completion of 90 percent of all work orders."
The Right Asset Management Solution for Your Education Institution
Our asset management software helps educational institutions of all kinds. Public, private and higher education institutions are vastly different. Nuances like the type of assets, where funding comes from, maintenance hierarchies, etc. greatly impact the type of software these institutions require. Brightly's suite of asset management tools cover it all. 
Public K-12
Public educational institutions face tight budgets and widespread school systems.  Brightly helps these institutions see what assets they have, extend the life of those assets and make informed decisions when spending precious budget dollars.
Private/Independent
Private schools require advanced technology to remain competitive. Assets must be functioning properly at all times to keep tuition rolling in. Brightly helps these institutions keep costly assets functioning properly through streamlined work orders and intelligent preventative maintenance recommendations. Event management features ensure schools get the most return on facility rentals and fundraising initiatives.
Higher Education
Higher education institutions juggle assets spread throughout large campuses. In addition to the equipment necessary to run an educational institution, colleges have housing facilities, gymnasiums, cafeterias, etc. to contend with. With maintenance requests often coming from students living on campus, time and efficiency are crucial. Brightly helps higher education institutions optimize their asset management, performing preventative and reactive maintenance efficiently, leaving students and teachers safe and satisfied.
Integrations
Brightly uses APIs to simplify integrating essential software platforms like student information systems, human resource information systems, single sign-on, mobile device management and more.
Featured Education Resources
Learn more about how Brightly can help your school by checking out the Education-specific resources on our site. Here are a few links to get you started:
Find more by visiting the Education section of our Resources page.
FAQs
Why does my school system need asset management software?
Asset management software clarifies what assets you have, the health of those assets, where they are and what assets you will need down the line. Keeping track of this information on paper is inefficient and leads to poor budget utilization. Intelligent asset management software streamlines asset tracking and maintenance and uses predictive analytics to show when preventative maintenance is needed and what assets will need replacing down the line. 
What type of training is available with Brightly's asset management software?
Brightly offers a suite of world-class implementation tools including an online learning management system, online help content, an interactive project plan and a dedicated implementation specialist to provide guidance and insight throughout the onboarding process. These tools are joined by a 60-day project plan to ensure efficient and effective implementation and a faster ROI.
What makes Brightly's asset management software better than other systems?
Brightly's unique asset management for schools features weren't born overnight. Our suite of tools for educational institutions is backed by deep industry expertise, achievable only through decades of experience.
Our asset management software for schools was founded in 1999 as SchoolDude. Since then, we've helped over 7,000 educational institutions (Public K-12, Private and College Campuses) overcome industry-specific challenges. We currently help over 60% of United States school districts with easy-to-use, mobile and cloud-based operations and school asset management software. Our clients process over 30 million work orders annually. 
How much money do school systems save when using Brightly's asset management software?
Annually, Brightly's asset management software helps schools save $200 million in energy costs and facilitates $1.1 billion in event costs recovery. 
How long does it take for school systems to move to adopt asset management software?
New Brightly clients can be up and running on the software in as little as 30 days. 
Book a demo to find out how Brightly can help your school optimize asset management to save money and better support your students.