Blog
7 Tips for More Efficient Maintenance Planning
Maintenance planning starts with one simple mantra: stay running. Of course, anyone who has ever been around facilities management knows that is not always a simple task. Avoiding breakdowns are the start, but enacting a solid, efficient plan takes more than a little forethought.
The first goal of maintenance planning is maximizing the safety and cost-effiectiveness of your organization's operations. There are a lot of ways to achieve this, and most of those ways work around a software system that uses automation to create a plan for preventive maintenance. Prevention is key: stop problems before they start. Paying a little now to keep your equipment and materials in good working order prevents costly, untimely breakdowns that can cost your company dearly.
So how do you launch a proactive plan of attack that identifies maintenance tasks, enacts them, and keeps your system running smoothly? Here are 7 tips to help you get started.
1. Designate an individual maintenance planner
Leadership roles are critical in maintenance planning. Without a sound, centralized plan, chaos reigns. There must be a role defined as maintenance planner, with the knowledge and experience necessary to define the maintenance strategy and delegate maintenance tasks to the maintenance team.
The maintenance planner will is charged with implementing the maintenance plan and ensuring roles are defined in its execution. This is a key aspect of ensuring the success of your plan and helps the maintenance team understand their roles and responsibilities.
In addition, the maintenance planner should be trained to use a computerized maintenance management system (CMMS) and understand maintenance strategies. This allows the organization to enact a proactive approach to maintenance.
2. Prioritize preventive maintenance
The ultimate goal of maintenance planning should be to implement a proactive, preventive maintenance strategy that prevents equipment failure or breakdowns.
Preventive maintenance requires a detailed maintenance strategy to prevent failures and identify which spare parts and other materials need to be kept on hand to address problems as they arise. That means any piece of hardware that needs upkeep is serviced or optimized on a regular rotating schedule.
This approach reduces downtime, saves money, and eliminates the need to constantly put out fires. By prioritizing preventive maintenance, organizations can prevent equipment failure before it occurs and prolong the longevity of their assets, which saves money in the long run.
A preventive maintenance program has long-term benefits to the organization as well.
Productivity will increase since equipment downtime is reduced
The reduced risk of equipment failure promotes safety
Customer satisfaction will likely increase with increased efficiency
3. Implement a CMMS
Your organization's CMMS is critical to carrying out an effective maintenance plan. Your CMMS is perhaps your best tool for creating efficient preventive maintenance plans. They're your hub for creating a predictive maintenance plan, managing work orders, and collecting analytics.
A system like Brightly Asset Essentials™ can help your organization more efficiently tackle maintenance management. Asset Essentials has a variety of helpful features:
Reduces corrective maintenance
Streamlines work orders and tasks
Plans and schedules preventive maintenance
Promotes smarter budgeting
Optimizes resources and communication
Increases ROI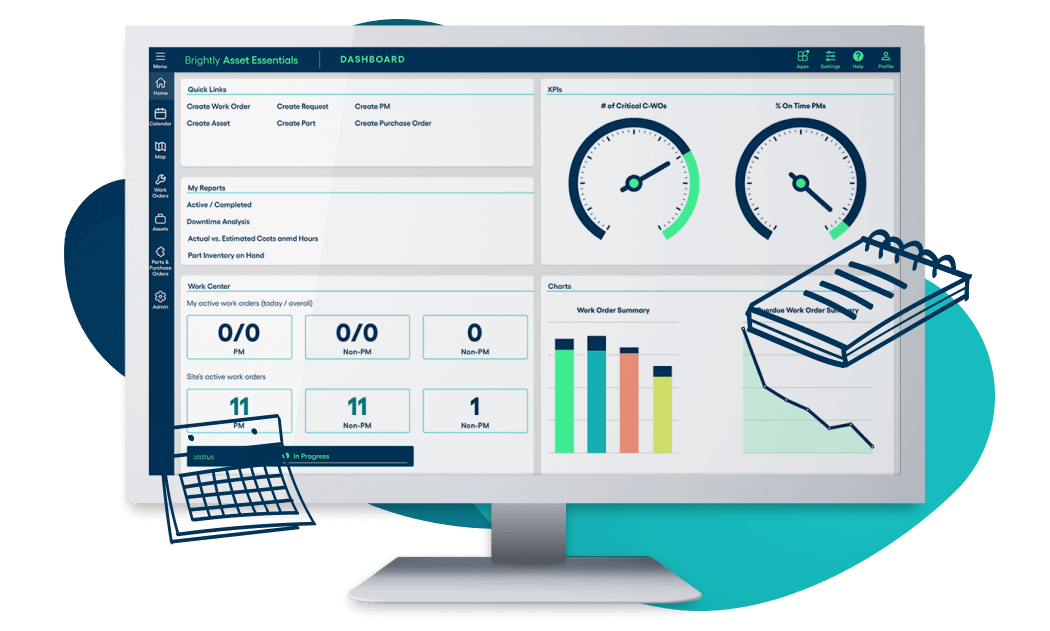 4. Utilize the P-F curve
The P-F curve is an X-Y axis graph that provides a visual representation of your organization's equipment health over a period of time. The P-F curve helps identify the time between an piece of equipment's potential failure and actual point of failure, called the P-F interval.
The P-F curve identifies the point of potential failure (P), which indicates the item is in a condition where failure could occur, and measures it against the point of functional failure (F). The time between those two failure modes is the P-F interval, and knowing those two points can help you maximize the P-F interval, which has a variety of benefits to your organization.
Your CMMS can create a P-F curve graph that depicts the P-F curve, helping you with condition monitoring and identifying signs of failure. This helps you know when to schedule preventive maintenance and identify risks, extend asset life, and establish a maintenance strategy.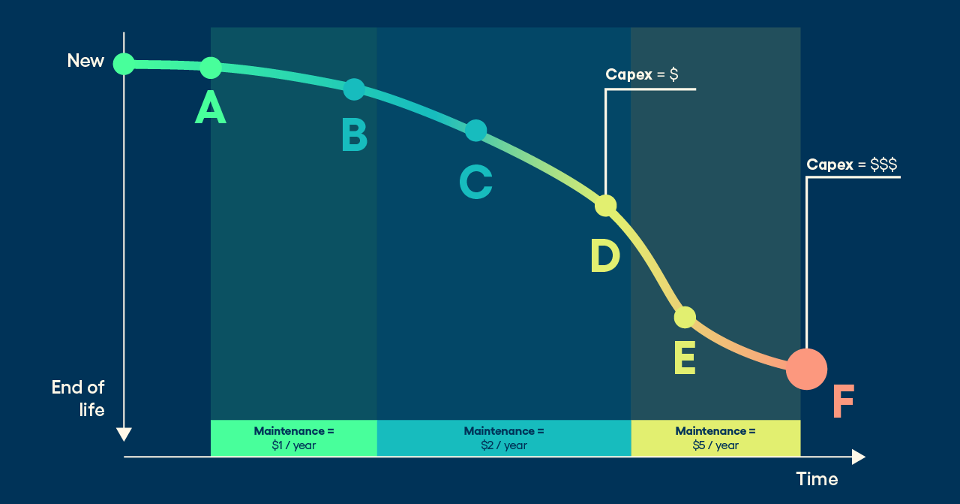 5. Leverage historical data
Historical data, such as an asset's P-F interval or the time it takes to perform certain maintenance tasks, can increase maintenance planning accuracy over time. The more data you collect and integrate into your KPIs, the better picture you have to optimize maintenance planning and scheduling.
Your CMMS can help you create KPIs associated with your maintenance goals, allowing you to measure performance against these goals. Those analytics help you identify areas for improvement in the current maintenance workflow.
Asset Essentials™ helps you track, store, and organize asset data into meaningful and actionable reports, contributing to a more strategic approach to maintenance planning. This allows stakeholders remain aligned on the company's needs and promote a proactive maintenance plan.
6. Plan ahead
Too many organizations fail to plan maintenance far enough in advance, to their own detriment. They're missing opportunities to create efficiencies in their maintenance strategy, decrease wasted funding, and improve their company in so many ways.
A reliability-centered maintenance plan can help you chart out maintenance weeks or even months ahead and help your organization identify optimal times for routine maintenance. You can schedule maintenance during slower or lower demand periods and minimize operational disruption. This saves your business time and money.
A solid CMMS can create visibility between organizational operations and your maintenance plan, allowing you to make more informed maintenance decisions ahead of time.
7. Partner with Brightly
Implementing a new software platform into your company's tech stack can be a daunting task. It helps to have an implementation partner to help you get started, train employees, and integrate with your other systems. Brightly is that partner.
Brightly has a CMMS to help you create a sound maintenance plan and help keep your organization running at peak efficiency. Contact a Brightly expert and take the next step toward a simpler, more proactive, cost-effective maintenance plan.