Blog
Opportunities Abound at Brightly After 15 Years for Steve Harris
At Brightly, culture is more than a buzzword; it's the core of who we are. It drives how we work together, how we treat one another, and how we move forward in the same direction. Our employer brand, The Brightly Way, outlines the beliefs and values we live by to embody our culture. For Steve Harris, a Senior Client Solution Architect based in the UK, these values help fuel and motivate him.
Steve started out with the Confirm product 15 years ago, and under its past ownership, the enterprise asset management solution his team worked on didn't really align with the other products the company offered. Now under the Brightly banner, he feels inspired to be surrounded by fellow asset management professionals globally who share the same interests, passion and goals.
What has made him stick around for such a long time? He credits it to two things—the customers he serves and the colleagues he solves problems collaboratively with. "I really feel we have a culture for being able to discuss ideas, potential options and take constructive feedback to ultimately deliver the very best solutions for our clients." Not only does he find himself surrounded with a supportive team, but he also finds motivation from partnering with local governments.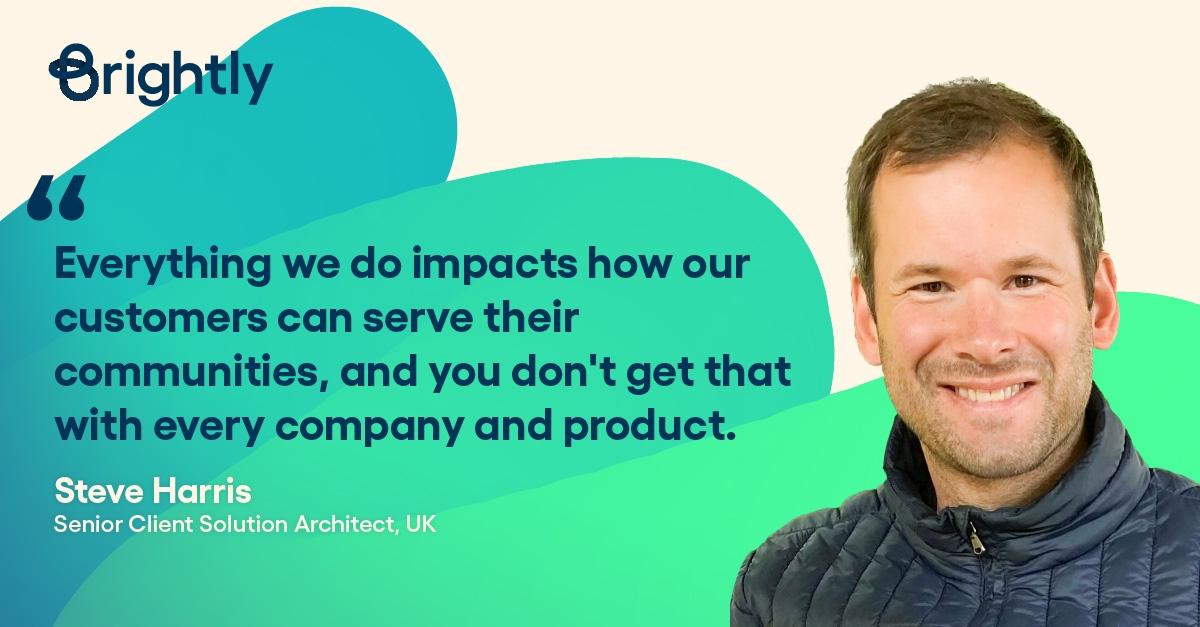 "Everything we do impacts how our customers can serve their communities, and you don't get that with every company and product. There's quite an obvious kind of link between what we do and how that affects everyday lives," he says.
Now with Brightly, Steve has a worldwide network of peers to communicate openly with as we try to solve some of the world's toughest problems. "It's great to now be part of an organization where there's a really clear and obvious path to growing globally and an opportunity to work with colleagues and clients around the world too."
Growth isn't just limited to our business, and Steve knows that. The acquisition by Siemens has unlocked opportunity for him to not only create more impactful solutions for our customers, but to grow his career as well.
"For me in my career, all of a sudden there's all kinds of new opportunities available within the business and with the growth plans." Steve says. "In my 15 years, all the things that we've had aspirations to do, all of a sudden, in reality they could happen very quickly. The next few years with Brightly under the Siemens ownership are going to be really exciting to see what technology and solutions we identify, that help our clients to positively transform the everyday lives of their citizens."