Blog
Our Study: Educators give assets poor grades, tap technology to aid future performance
New survey data from Brightly Software highlights education leaders' uncertainty about the state of educational institutional assets, but also reveals opportunities for EAM 
The COVID-19 pandemic cracked open pre-existing hairline fractures in education infrastructure. While it highlighted the importance of HVAC and airflow, the requirements shifted funding away from improving other aging assets. Across the country, declining health is directly impacting students' education, with some school districts cancelling classes due to infrastructure health. Climate change is also becoming an increasingly substantial concern, with tornadoes closing schools in Kansas, hurricanes wrecking schools in Louisiana and extreme heat sending students home, all pointing to the need for sustainability initiatives and net zero goals.
To better understand the current health and state of assets in education, Brightly Software recently surveyed C-suite, operational executives and IT decision makers across the education, healthcare, government and manufacturing verticals.
The data found that educators are taking notice of the external pressures impacting their assets. Only 16% of respondents graded their assets an A, the lowest percentage of all industries studied. They're also uneasy about their future ability to improve asset performance.
Looking closer at the findings:
1. 23% of respondents believe they're likely to receive funds from the American Infrastructure Investment and Jobs Act.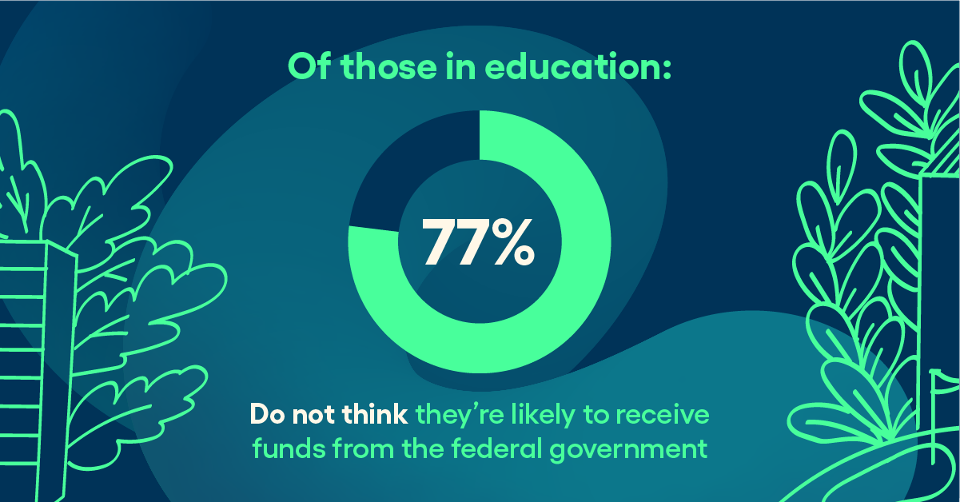 While 55% of respondents in other industries believe they'll receive funding, education respondents aren't so sure. Even with the promise of funds from the federal government through the act, education leaders remain skeptical – not surprising after years of underfunded or slashed budgets.
However, respondents know where these funds are most needed – and technology is supporting the industry in becoming smarter, safer and more sustainable. Respondents ranked their top funding priorities as advancing digital infrastructure (48%) followed by repairing existing infrastructure (41%) and physical infrastructure (36%).
As facility and operational leaders continue to do more with fewer resources to keep schools safe and healthy for students and staff, technology and EAM will both continue to provide opportunities for schools to increase efficiency, strategically plan infrastructure updates and make the most use of funds, helping address some of the uncertainty keeping decision makers up at night.
2. Hiring and retaining talent remains a key industry challenge: 15% say manpower keeps them up at night and 30% cite it as a barrier to adopting new technology.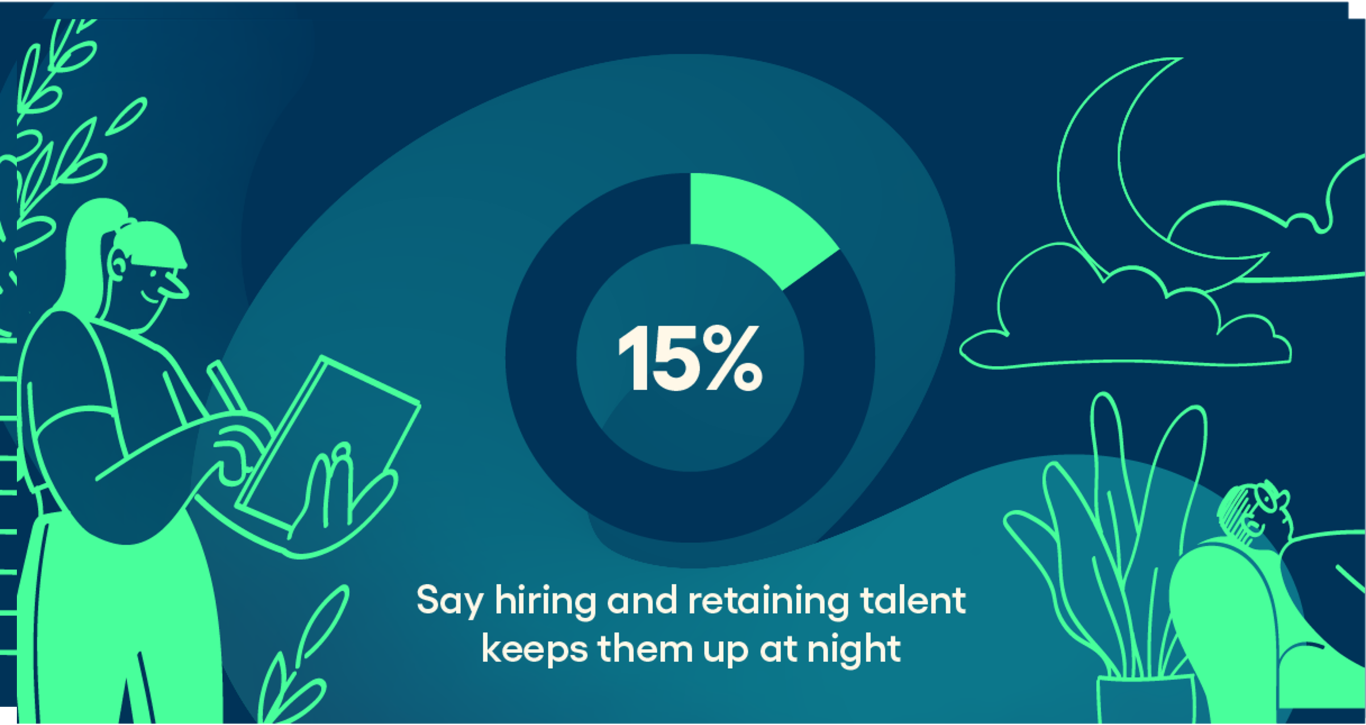 The shortage of qualified staff is nothing new. The COVID-19 pandemic exacerbated the teacher shortage and impacted the facilities and operations professionals keeping schools up and running – not to mention safe and sustainable.
The "Great Resignation" is poised to continue, along with the "Silver Tsunami" as industry professionals retire. But amidst the Silver Tsunami, there is a silver lining: only 30% say hiring and retaining talent is a barrier to adopting technology. For education infrastructure, this means organizations have an opportunity to support remaining staff through technology usage. In fact, 42% said they plan to implement automation and artificial intelligence (AI) to address their problems more efficiently.
Organizations can't hire their way out of shortages. To succeed, they must look to technology to increase operational efficiency and become more strategic to improve asset health.
3. Education is the least likely of all the industries surveyed to have an ESG strategy in place (53%), and 69% say ESG isn't a high priority for the organization.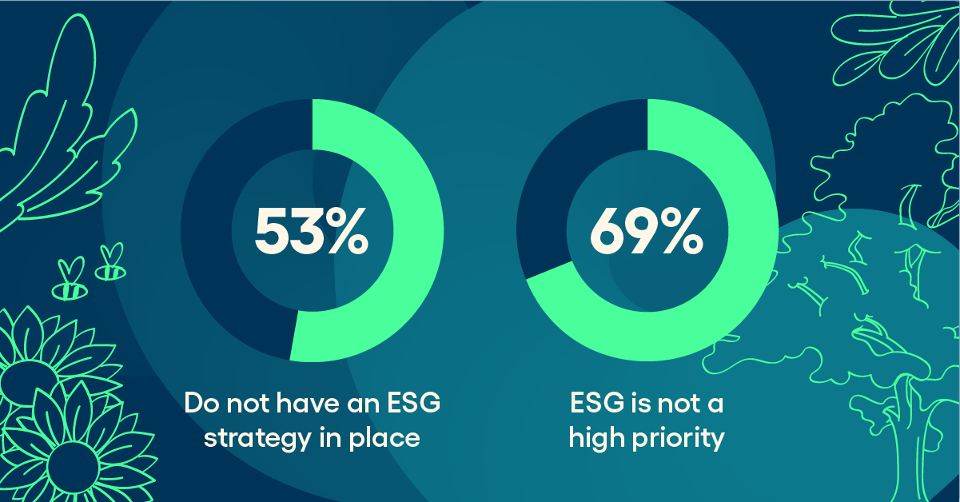 While sustainability has become an emerging priority across sectors, the study shows many in education still haven't engaged. However, as the impacts of climate change – whether natural disasters impacting school buildings or extreme weather causing canceled classes – there is a clear growth opportunity for sustainability in the education sector.
However, there may be help on the way. We're likely to see renewed interest in ESG and sustainability with the U.S. Department of Energy's Renew America's Schools federal grant, part of the IIJA, which set aside $500 million set aside for energy efficient lighting, HVAC systems, building insulation and renewable energy sources. Additional funding will support schools in reprioritizing ESG initiatives to make schools safer and more sustainable.
What does this mean?
While those in the industry express hesitancies, the data also points to positive behaviors education leaders are showing for future success, including practicing preventative maintenance, making data-driven decisions and engaging a community of involved stakeholders, among others.
These are important as the state of assets becomes more complex, which will require teams to be more proactive and strategic in their approach to asset management. Data siloes and a lack of centralized asset-tracking systems can limit an educational institution's ability to improve performance in real-time.
As such, there's a major opportunity for these organizations to further adopt technology. While a lack of understanding of technology's value exists as a barrier to adoption, enterprise asset management will support the industry in setting up leaders for future success and creating plans to make the most of valuable resources.
What's next?
No matter where you work in education, it's a challenging time. Improving this sentiment will take time – but where can you start? Our new guide, five asset management trends for education, details the top trends affecting educational institutions. Find out what actionable steps maintenance and operations leaders can take today, and how Brightly can help bridge the disconnect between administrative and operations leaders to tackle five of the most pressing market trends impacting education.
Methodology: Regina Corso Consulting polled 520 C-Suite, operations executives and IT decision makers in the U.S. and Canada who work in government, education, manufacturing or healthcare.