Blog
Q&A Series: What Is Work Order Software
What is a work order? 
A work order is a standardized task that results from a request for service that can be scheduled, tracked and assigned to someone typically in maintenance or operations. Work orders can be created internally across departments or externally by customers to improve environment conditions depending on the facility type.
Work order management software can be utilized for a variety of types of facilities, including schools, colleges and universities, local government, manufacturing plants, hospitals, senior living organizations, nonprofits, clubs and associations, and more. Popular work orders seen in maintenance departments can range from lightbulb replacements to plumbing issues to HVAC maintenance and roof repairs. 
Work orders are central to managing the maintenance operations team of any industry.
In its most simple form, a corrective work order is a simple piece of paper with some basic instructions: "What and where is the problem?" Managing this is the main reason a CMMS (computerized maintenance management system) was created. Work orders are so much more.
Work orders help an organization:
Manage requests from anywhere within an organization
Manage corrective and preventive maintenance
Manage the women and men on our maintenance and related operations teams
Access a critical source of key data to drive analytics and KPIs to help keep them on target
Like most aspects of starting new with a CMMS, the crawl/walk/run "continuous improvement" strategy will help you ease in and see continual progress. Start with basic work orders, but be sure to include the baseline key information – both to help manage the process operationally, but also to capture the key data to help later analyze.
Key fields of a work order include:
The location and asset affected
Person, team or contractor doing the work
Basic instructions (for a PM) or problem description (for a CM)
This can later be expanded to include parts used (or needed for a PM), the hours/descriptions of the work performed, pictures, safety instructions, etc. Eventually you will loop in your requester process to provide for a better feedback loop upon the creation of the work order. It's also essential to include what you learned during the work order – downtime hours, "problem" and "cause" codes, etc. These fields really turbocharge the analytics and help with your KPIs.
A solid work order system will help improve your team's efficiency and improve the quality and life of your assets. These are all essential to control costs and improve profitability.
What is a work order system? 
Historically, many maintenance departments used paper work orders, sticky notes, phone calls or emails to keep up with work orders. But with the tools of a modern cloud-based work order system (also known as a CMMS or computerized maintenance management system) offers, work orders can be entered in real time, tracked, organized and completed all digitally, or even on a mobile device. A digital work order solution can save time, money and even provide quick documentation for compliance, budgeting, capital planning and more.  
We've seen clients save 10 percent on operational costs and 15-20 percent time savings with a cloud-based work order system. 
How do you create a work order request and who can create one? 
With a digital work order system, a work order request can be created by anyone with a login or access to the online request form. After filling out the form, the work request will be routed into a queue within the system to be addressed by a specific technician or assigned to a technician by an administrator. 
What is the work order process & process flow?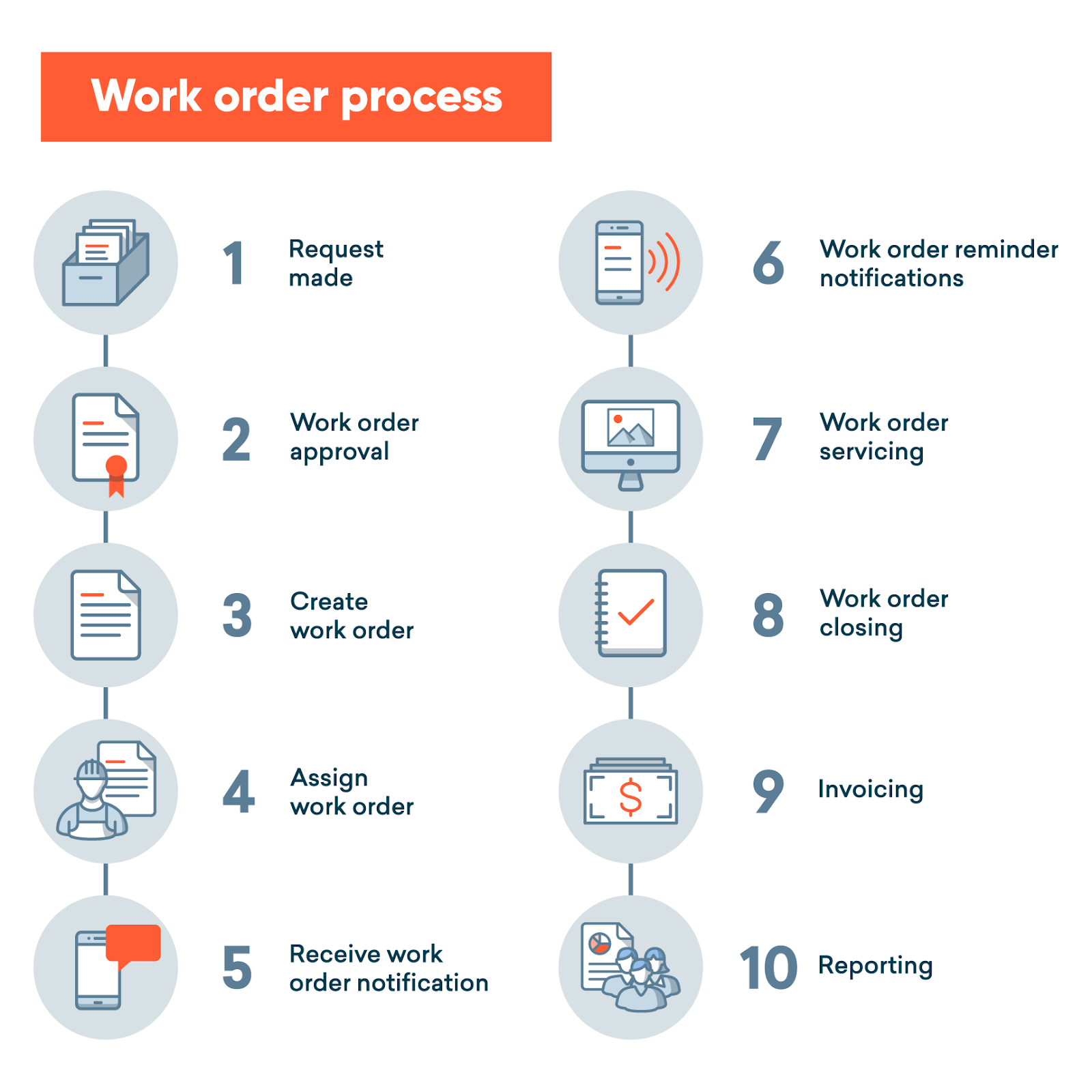 Request made. The work order or request is submitted into your CMMS system and documented there.
Work order approval. The work order is then either approved or archived based on the administrator's protocols and judgment.
Create work order. The work order is created and now active in the system.
Assign work order. The order is then assigned to a specific team or team member who has the availability and skill set to address the issue. 
Receive work order notification. The team or assignee will now be notified of the work order, its status, details, etc. within the system.
Work order reminder notifications. They may also have reminders set up to ensure they address the work order in a timely manner.
Work order servicing. Once the team member is able to address the request, they will do so, noting in the system what was performed and why. They may also add applicable photos or videos to the task for documentation.
Work order closing. Next, the work order will be completed and closed by the assignee. 
Invoicing. Depending on the nature of the work request, there may be invoicing involved to document and share the work done. This may also include sending a notification to the work requester about the completed status.
Reporting. The data and notes within the work order will be used for daily, weekly or monthly reporting purposes to keep teams and departments on track with communication.
What are the types of maintenance work orders that can be created?
Work orders can be made for just about anything. By far, the most common is to manage corrective maintenance (or reactive, unplanned or emergency work order). Corrective maintenance work orders are just the start.
Preventive maintenance work orders are the other major type. All organizations should be employing preventive maintenance (PM) and tracking those in the work order system. Work orders should be associated with any/all assets and facilities – helpful both operationally, as well as looking at analysis down to the various assets, components, systems, building and campuses. Work orders can be used for many tasks beyond traditional maintenance – basically anything where you need to schedule/associate tasks from your team to a building, asset or otherwise.
What type of information can you include in a work order? 
There are usually a variety of work order templates that you can customize within work order software.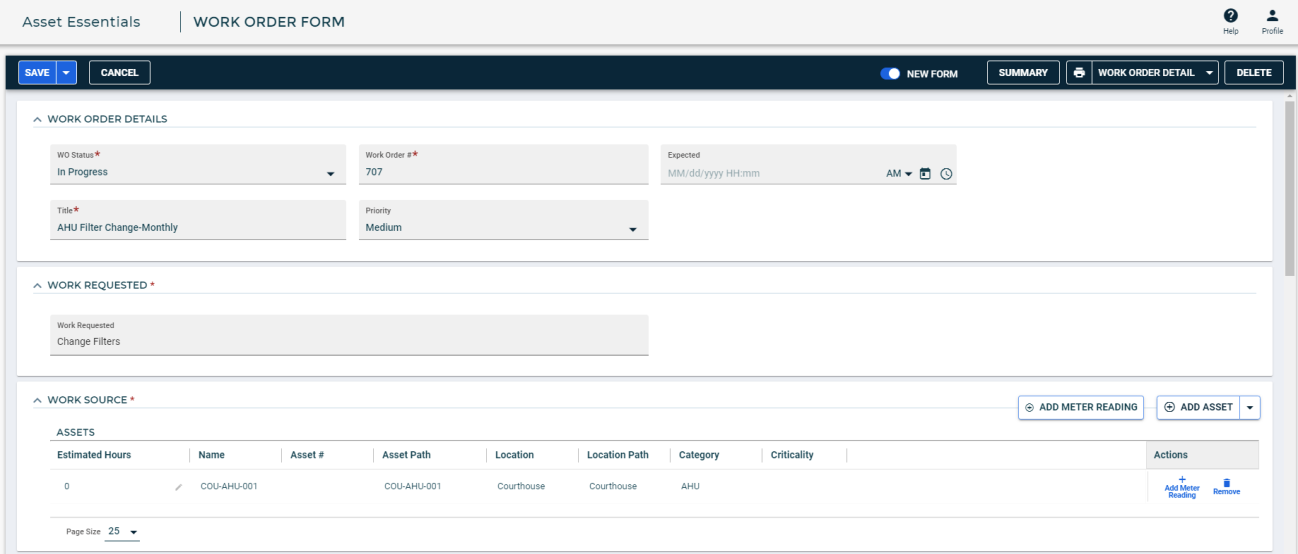 Work orders often have fields to capture: 
Who submitted it? 

Where is the work needed? 

What are we doing? 

How critical is it? 

Are we working on something specific? 
Who is working on it? 

Why are we doing it? 

When did the request come in vs. when was it started vs. when was it finished? 

Is it done? If not, why? If so, what did we do? 
How do you fill out a work order?
You should submit the following core information required to execute a maintenance work order:
Who submitted the work order? 
What is the asset to be serviced, how is it identified and where is it located?
Requested service
Priority level: How critical is it? 
Request date & completion date
Are we working on something specific? 
Who is working on it? 
Why is the service requested, what is the problem to be solved? 
What materials are required or available?
When did the request come in vs. when was it started vs. when was it finished? 
Completion notes: Is it done? If not, why? If so, what did we do? 
 
These details not only help the maintenance professional adequately address the issue, it addresses key questions of managing the department's workload and efficiently organizing your team's workdays. 
As organizations become proficient at managing work, they often use their CMMS to address the business aspects of work orders like: 
How much time did each person spend on the work? 

Did we buy parts or rent equipment? From where, and for how much? 

Did we bring in contracted services to help complete the job? 

Is this part of a bigger project? 
How much was spent vs. what was budgeted? How much of that budget is left? 
Work order management objectives
The ultimate goal of tracking information in a work order is leveraging it to make decisions and to have insight to answer questions, such as: 
What types of issues appear the most? 

Where are we using the most resources? How much time and cost is involved? 

How much are we accomplishing vs. how much is falling through the cracks? 
If I need employees, what skills will help me solve issues found from the questions above? 
Digital management of work orders
Organizations can see huge efficiency gains (as well as much less wasted paper) when digitizing work orders. 
Here are some other benefits of moving from paper work orders to digital ones:
Faster response times without a paper trail
Reduced errors with digital vs. paper tracking
Improved productivity with mobile work orders that empower technicians to document, open and close requests right where they're doing the work
Smoother communication from the office to technicians in the field
Better documentation and easier reporting capabilities
What does a work order app do? 
Many work order software providers offer a free mobile app to help users create and complete work orders in the field.  
An example of a mobile work order form in Brightly Asset Essentials™ 
Then, technicians can use a mobile app to see their assigned work on their mobile device, as well as add notes, images and details to a work order before completing. Some work order apps even have timers to help better approximate the time it takes to complete a work order and what specific tasks are involved. 
What is the cost of a work order system? 
Prices for work order systems vary and may be based on square footage, rooms or beds, residents, users or other factors. To learn more about Brightly's pricing, request a personalized quote to see the value of software for your organization.  
What is the best work order management tool? 
When choosing work order software, you must also consider the company or partner you will be working with. You should make sure they have a history of offering exceptional products and a strong support team. At Brightly, we have 11,000+ clients using our CMMS, as well as a 99% client satisfaction rate. Partnering with Brightly and using our CMMS for work order management results in improved:
Workflow management: This includes work order request management, automatic request routing, preventive and predictive maintenance calendar scheduling and work order prioritization to simplify workflow. 
Work tracking and monitoring: A bull work order update tool, automated email notifications and work order scheduling, as well as project and audit trail tracking make staying in the loop simple.
Equipment/asset management: From cost tracking and repair history to calendar/meter reading and vendor tracking for specific assets, you need a way to document each step of asset management.
Inventory management: Stay up to date on your inventory with parts inventory, just-in-time inventory capabilities and purchasing management tools.
Reporting and analysis: Cover your reporting needs with predefined dashboards with KPIs, reports and charts, budget tracking, and a data analyzer tool.
Mobile app: Make sure you can take your work order management mobile with a mobile app supported by iOS and Android and that can be downloaded for free.
Documentation: Have everything you need within the system with a large document library that supports a variety of formats, including PDF, Word, Excel and plain text.
Check out our other Q&A post on CMMS and preventive maintenance.