Blog
What Is a Sustainability Strategy?
What Is a Sustainability Strategy: Your Path to Tangible ROI
It's 2023 and sustainability is still a buzzword. Climate change awareness is great, but setting net zero goals without a plan to achieve them is an empty promise. With consumers and investors growing more informed every day, promises without action will hurt your company regardless of good intentions.
It's time to dust off the SMART goals strategy and figure out exactly how your company can create a sustainability strategy that will actually save money and support global climate change initiatives.
What is a sustainability strategy and what isn't?
A decade ago, sustainability had a clear definition. Oxford Language defines the word as "the ability to be maintained at a certain rate or level". In reference to the environment, the definition becomes "the avoidance of the depletion of natural resources in order to maintain an ecological balance".
Scroll just a bit lower on the search results page, and you'll find most people view sustainability as a way to sustain current generations' needs without compromising those of future generations.
What are companies doing to achieve that goal? Many list recycling programs and encourage employees to make more environmentally conscious choices.
While these actions do support climate change initiatives, they are far less impactful than a strategic sustainability strategy.
Going forward, businesses should consider sustainability as the juncture between economic viability, environmental protection and social equity. A truly impactful corporate sustainability strategy will incorporate carbon reduction into business operations and how they impact those three pillars, with the ultimate goal of securing longevity for people, the planet and their profits.
Your net zero goal alone is not a sustainability strategy
A net zero goal without a plan for action and data tracking is just that– a goal. With the right criteria to back it up, however, it could become the basis of a sustainability strategy.
A true sustainability strategy aims to reduce energy consumption and carbon emissions while simultaneously pursuing business goals. This looks different for each company depending on factors like local regulations, energy consumption from operations, supply chain makeup and industry expectations.
Every good sustainability strategy is built on data tracking. Without data tracking, it's impossible to set clear, measurable, achievable sustainability goals or create a concrete plan for attaining them. You can't set milestones without a starting point or an idea of what your energy usage/carbon footprint will be along the way.
How do companies create a sustainability strategy that will actually have an impact?
1. Identify your emissions baseline
Collect and analyze energy and resource data and where it originates to pinpoint your company's current status. Data tracking is the basis of every good sustainability strategy. It needs to be systemized, centralized and accessible.
Optimizing energy and carbon consumption requires understanding how much energy and carbon the organization is using and where. As a start, that means collecting utility data. You can compare to industry benchmarks to assess usage in relation to the industry average. Companies that don't have industry benchmarks can base their goals on past energy usage, with the goal to improve year over year.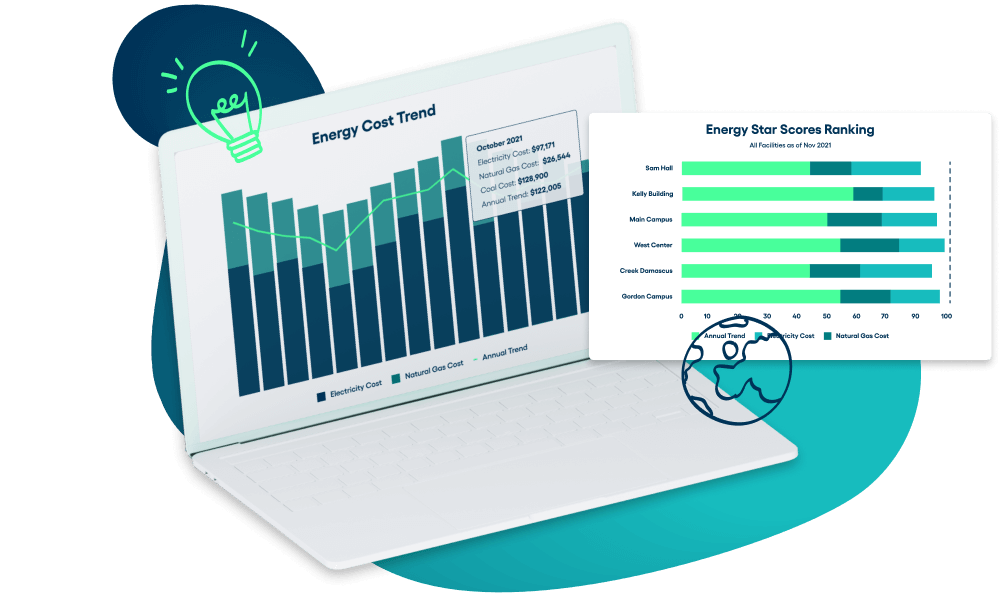 2. Appeal to your decision-makers
Building an effective sustainability strategy requires support from the organization's decision-makers. The best way to garner that support is through sharing what's at stake if they don't take immediate action. Real-life consequences for inaction are on the horizon.
In the commercial real estate sphere, for example, carbon reduction is becoming vital to attracting top tenants and driving value. Climate initiatives are even impacting asset prices in cities with stringent mandates or carbon pricing. 
Long-term, inaction will likely result in expensive penalties and poor sentiment from consumers or constituents, and it will impede the global effort to slow warming temperatures and prevent extreme weather events.
3. Use your data to inform decisions and track improvement
Once you know your organization's baseline, use that data to establish a near-term goal and track progress. Seeing how much energy and carbon the organization uses and where it is being used helps you find progressive goals for reduction and a path toward achieving each goal.
Asset-level data identifies where to best invest capital for aging infrastructure within your operations. Building data can source opportunities for cost and waste reduction. Using that data will further help the bottom line by pinpointing opportunities for investment in alternative energy sources such as on-site renewables.
As decarbonization methods are implemented, data tracking verifies their effectiveness and gives the organization credibility in the eyes of customers, investors, regulatory bodies and internal decision-makers.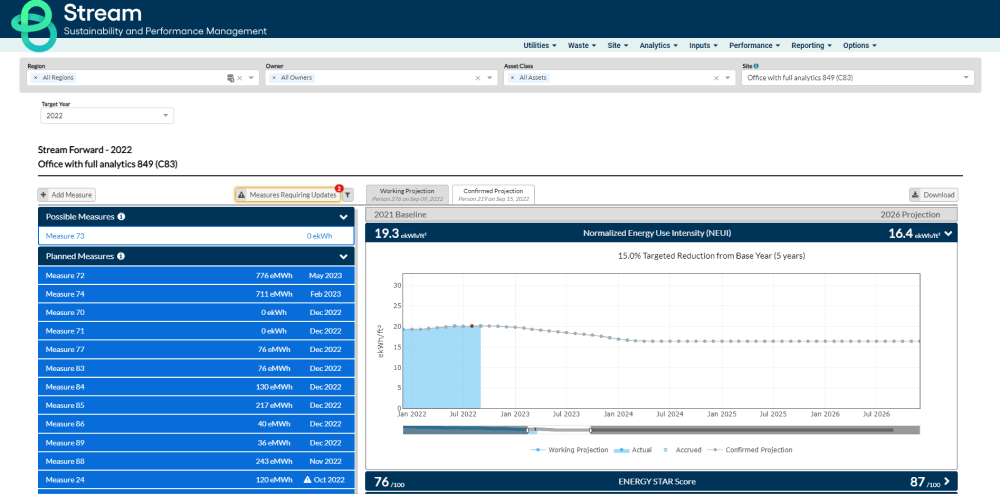 Get clear on your sustainability strategy now, before it's too late.
The risk of inaction isn't going anywhere any time soon. Awareness is growing as the climate crisis gets harder to ignore. Achieving carbon reduction goals is now a necessity in many competitive industries. As of 2021, over 2000 companies committed to carbon reduction, with that number continuing to jump up following the United Nation's COP27 meeting.
Regulatory bodies across Europe currently require emissions tracking, and many United States city governments are following suit. Soon, tracking emissions data will become the cost of doing business. Increasing emissions transparency will shed a light on empty corporate sustainability and carbon reduction commitments.
With so few companies backing up their claims, creating a transparent, data-supported action plan could be your organization's next big differentiator.
If you take one thing from this article, let it be that an effective sustainability strategy doesn't require your company to jump out of the gate with an ambitious net-zero goal, an equipment overhaul or massive operational changes. Companies can significantly lower their carbon footprint by tracking and optimizing energy usage at the building and asset level, which ultimately reduces the amount spent on utility bills.
Brightly's energy management software and carbon reduction services arm organizations with the tools necessary to reduce carbon emissions and energy consumption, save money and do their part to preserve the environment in the process.