Blog
Workforce Optimization: Team Management
In today's challenging labor market with "help wanted" signs all around us, optimizing your workforce has never been more important. While we may not be able to fill all the open positions we would like, we can take steps to optimize the team that we have helping keep up with the demand to run our facilities and operations smoothly.
What is the current state of the labor market in maintenance and operations? In short, it is challenging. According to a Deloitte study performed using data from the US Bureau of Labor and Statistics (US BLS), we will continue to have a whopping 2.1 million unfilled operations positions in manufacturing alone over the next decade. The reasons are numerous: we are an aging society and will see 2.5 million "baby boomers" retire in the coming years. The pandemic took a toll – we are still yet to recover many vacated positions. Our modern operations position is also changing and requiring a greater level of skills – especially digital.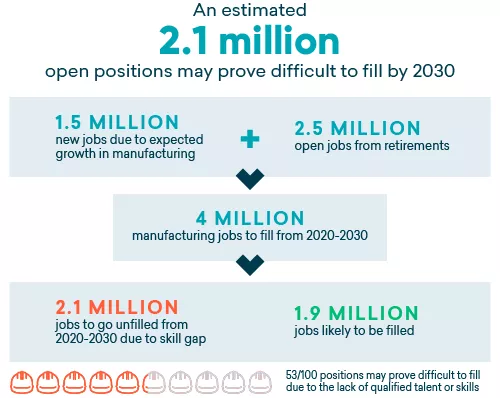 We simply don't have enough people with the right skills to fill these positions. In fact, it is 1.4 times harder to fill these roles today than it was in 2018, and this trend is not likely to let up. 
And worst of all, it hurts our ability to grow and prosper. Customer service, new product development, implementing new technologies, responding to new market opportunities and increasing growth are all adversely affected by these labor shortages.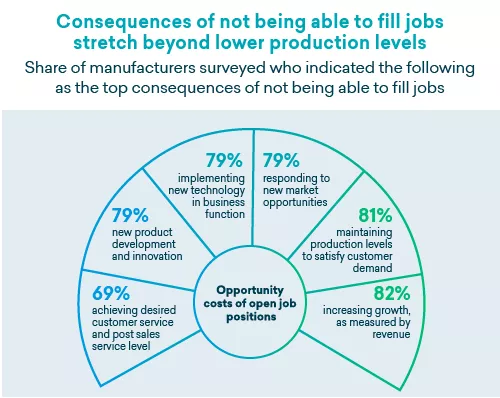 So, what do we do when we can't find the workforce we need? Operating efficient (or "lean") is essential. This problem is not unique to any single industry or geographic area, and your competition is facing the challenge. If you cannot control the labor market, do the next best thing – optimize the team you already have. Workforce optimization, operating lean, "doing more with less" – whatever you want to call - it can have the same effect as hiring more people without putting undue strain on your current team. Your CMMS (computerized maintenance management system) is an essential part of this lean process.
This is the first blog in a five-part series on workforce optimization:
Workforce prioritization
Issues request process
Intelligent workflow, routing, notification, and escalation
Capturing and reporting on data
Workforce participation methodologies
Team Management and Optimization
In prosperous and in tough times, operation "lean" is equally in fashion. If your operations are busy due to seasonality, increased business activity or other factors, you are likely busier than your team can easily handle – and especially vulnerable in today's tough labor market. If your industry or operations have slowed, revenue/funding may not support your historical headcount, forcing you to "do more with less" in terms of the size of your team. Either way, operating "lean" aided with CMMS is the key to insuring that your maintenance team can support your operations.
What is CMMS?
CMMS has many goals, but a key one is the ability to make sure our facilities and assets are functioning at top performance. Work orders management is a core part of CMMS, making sure that your team is well equipped to manage the maintenance of these assets. Add in spare parts, safety, reporting/analytics and other core features – CMMS will help minimize unplanned downtime, control maintenance related costs and make sure your team is operating efficiently.
Always know what is going on
One of the key elements of an optimized team is to have excellent visibility into what is being worked on – now and in future – with smart prioritization, dynamic escalation, notification and excellent visibility. Knowing what is going on – both as a technician and a manager – will help optimize the team and maximize effectiveness.
There are various time horizons you may need to examine – everything from "the emergency in front of us" to the more distant backlog of important but less time-sensitive work that you'll get into the future.
Every time you log into your CMMS, either on your desktop computer or your mobile device, you should have instant visibility into what you and your team are working on.
From Asset Essentials' dashboard screen, we can easily see the number of work orders that you are personally working on (both preventive and corrective) – including any that are overdue. If you are a manager (like the above screenshot), you also have visibility into what your team is working on. Get even more granular detail by clicking the links.
A preventive or corrective maintenance work order should never be a "surprise" – each technician and manager should start their day knowing exactly what they are working on.
Make efficient "to-do" lists
Once you know all your work (or your teams) – make sure the information is presented in a streamlined and organized manner. The work order summary screen should be customizable to present key information/fields in logical orders to make sure you have the best view of your tasks.
A good CMMS software will allow you to drag and drop fields in desired order, default the sort and possibly filter. You should be able to switch between views – some might be tactical, while others are geared for research. The following example highlights only open ("in progress") work orders, sorted by priority with key fields on the summary.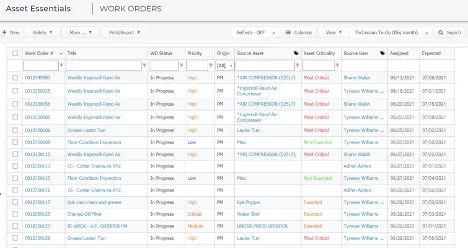 Every user can have their own view – created by themselves or pre-built by an admin/supervisor. It is critical that you easily be able to access this information quickly so you can get back to "wrench time".
Drilling into a work order, all appropriate fields should be complete so technicians have a better handle the work and you get better analytics.


The extra few moments to fill out fields like work order type, problem/cause code, etc. will really help get this work done and better identify the "bad actors" that are contributing to your unplanned downtime.
You should have smart droplists that make sense to the entire population of users. Same goes for your location/asset hierarchy – should be comprehensive yet allow for quick drilling-down to the asset where the work order lives. Custom fields can be helpful for special circumstances.
Use proper prioritization
"Priority" is often a subjective field in a work order, typically ranging from "emergency" to "low". Just exactly what is an emergency? I've seen "emergency" work orders for a malfunctioning restroom. We all need properly functioning restrooms, but if there is another bathroom a short walk away, is it really an emergency?
Enter "asset criticality" – a field that, when used in conjunction with the traditional priority field, you can really ascertain where technicians need to focus.
Often called a RIME index, by creating a "calculated criticality" you can bend in the combination of priority and asset criticality. In Asset Essentials, the lower the number, the more critical the work order. As you can see from the screenshot, sometimes this will cause a lower (traditional) priority to outrank a higher one. This is legitimate as those assets and more critical to our operations. This way the restroom work order (assuming there are others!) won't outrank critical production asset WOs.
Have parts?
Having the spare parts you need when you do a PM or corrective work order is essential. "Stockouts" (missing a part when you need it) only exacerbates downtime. There is a lot of help CMMS can offer in terms of a proper inventory management plan, but for this article, simply being able to know the parts you need for a work order and more importantly – if they are in stock – is a huge time-saver. Being able to pull up a "quantity on hand" from your mobile device – before you head to the spare parts room – is super helpful in a lean maintenance operations environment.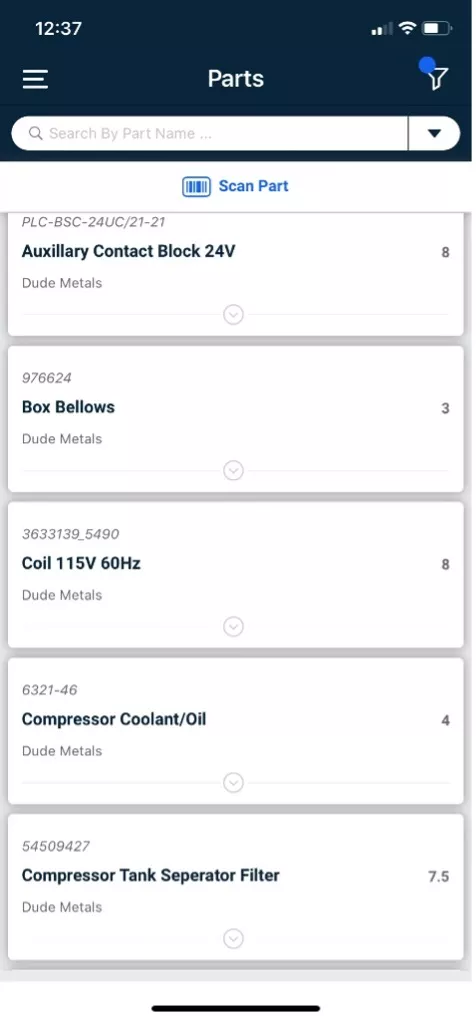 For PMs, dynamic automatic management of spare parts – including in-stock, reserved or "just-in-time ordering" can be very helpful.

Solid parts management in your CMMS will help in many ways, reducing stockouts being at the top of this list.
Managing your work orders
Having all your work orders well organized in a CMMS has other benefits. For example – if someone is about to go on vacation, easy ability to reassign these tasks to another capable teammate with a few clicks is very helpful. "Batch updates" after filtering/selecting a group of WOs streamlines data management. You can also view your WOs on a map – helpful for those field-based or outside/campus-based WOs.
Conclusion
Given today's labor market challenges, we are often forced to "do more with less". CMMS makes this much easier and helps preserve our assets and facilities at the same time. This is especially aided as you move to a more proactive/preventive environment. This will be safer for the team and improve morale at the same time. Plus, you'll reap the added benefit of controlling costs and improving your organization's profitability.