News
Brightly Expands Executive Team to Continue Growth Under Siemens Smart Infrastructure
CMO David Ly, CCO Trey Seck and COO Don Kurelich will lead the company's next growth phase of smart asset solutions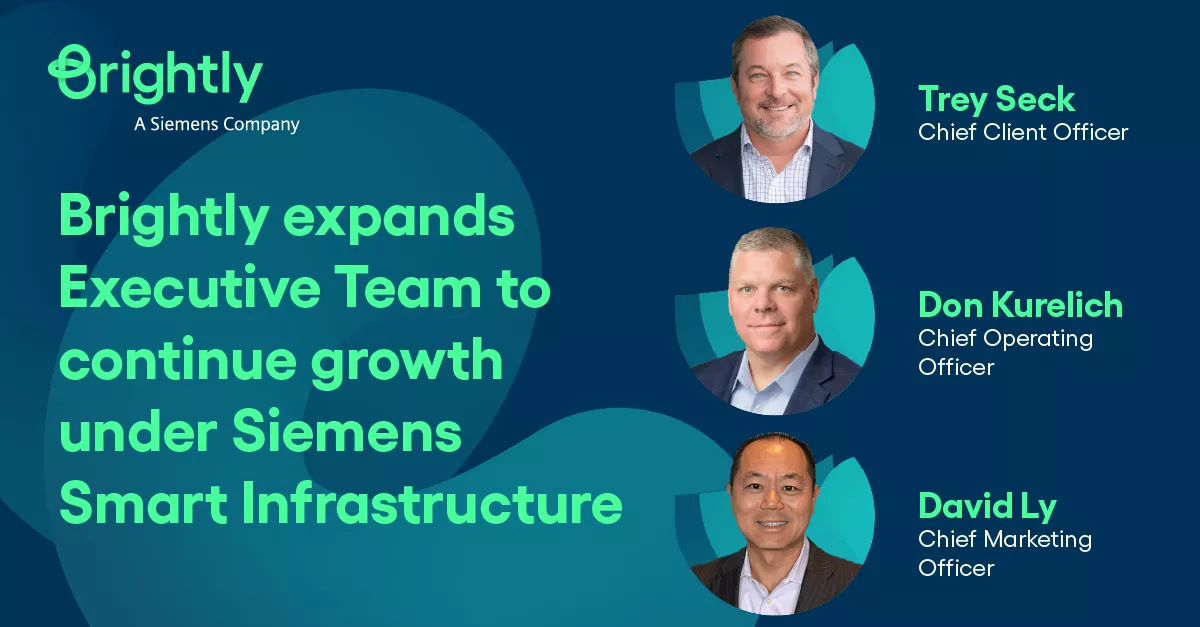 CARY, N.C. – July 18, 2023 – Brightly, a Siemens company and the global leader in intelligent asset management solutions, today announced the appointments of David Ly, chief marketing officer, Trey Seck, chief client officer, and Don Kurelich, chief operating officer, to its leadership team to continue the company's global growth and enable clients to manage world-class smart assets, smart buildings and smart cities. 
"David, Trey and Don bring strong, relevant experience in their respective fields from some of the world's leading organizations, and we're thrilled to bring them onboard to support our growth," said Kevin Kemmerer, chief executive officer of Brightly. "As we approach the one-year anniversary of our acquisition by Siemens SI, Don, Trey and David will play integral roles in achieving our vision of delivering the smartest asset management platform on the planet." 
Ly is an experienced marketer and business management leader with two decades of experience in marketing, professional services and sales for SaaS-based organizations. He will lead Brightly's marketing function, overseeing the growth of Brightly's reputation and customer demand. He joins Brightly most recently from JFrog where he served as vice president, global growth, and prior to that, spent three years at cybersecurity leader Mandiant/FireEye, serving as vice president, global revenue marketing. He also held leadership positions at NetApp and Cisco. 
"Brightly is on a mission to deliver the smartest asset management platform to build a brighter future, and I'm eager to utilize my experience with fast-growing brands to support the company's growth," said David Ly, chief marketing officer at Brightly. "The facilities and operations industry is ripe for transformation as professionals find solutions to macro challenges like rising energy costs, asset complexity and talent issues, and I look forward to supporting such an important industry." 
Seck is a tenured customer success leader with twenty years' experience in the technology and software space and will lead the Client Services organization to ensure Brightly delivers exceptional client experience. He has led numerous functions including finance, client support, professional and managed services, technical enablement and customer success, and has led acquisition integrations, large scale customer deployments, platform migrations and high-growth businesses. Seck was previously vice president, global customer success at Red Hat, and before that, spent 15 years in the IBM Software Group leading various technical client success roles.    
"As an industry leader for 20+ years, Brightly has proven that clients are the cornerstone of the business, and I'm excited to continue this tradition," said Trey Seck, chief client officer at Brightly. "Our clients are the essential heroes within their organizations, keeping buildings running and citizens connected, and I look forward to supporting our clients in this as they modernize their operations to make smarter decisions with data."  
During Kurelich's 26-year career in the Siemens Digital Industries software group, he's led sales, services, product and technology organizations. As chief operating officer, Don will focus on developing and executing Brightly's growth strategy to drive the company's product excellence, market expansion and international growth plans. He most recently served as senior vice president of integrations for Siemens Smart Infrastructure.  
"Brightly is incredibly well positioned for strong, strategic growth in the market as we look ahead to our next milestone," said Don Kurelich, chief operating officer. "I look forward to serving as the company's first chief operating officer and working alongside the rest of the executive team to execute our ambitious growth plans to deliver on our mission to use smarter assets to drive more sustainable communities." 
Learn more about Brightly's smart asset management platform.  
About Brightly Software 
Brightly, a Siemens company, enables organizations to transform the performance of their assets. As the global leader in intelligent asset management solutions, Brightly's sophisticated cloud-based platform leverages more than 20 years of data to deliver predictive insights that help users through the key phases of the entire asset lifecycle. More than 12,000 clients of every size worldwide depend on Brightly's complete suite of intuitive software – including CMMS, EAM, Strategic Asset Management, IoT Remote Monitoring, Sustainability and Community Engagement. Paired with award-winning training, support and consulting services, Brightly helps light the way to a bright future with smarter assets and sustainable communities. For more information, visit www.brightlysoftware.com.