Blog
The Complete Guide to School Facility Management
Facilities management for schools is a vital part of a school district's overall health and success. Facilities maintenance is key to ensuring the success of a school system and its students, but it can be a huge undertaking. Keeping school buildings working optimally takes a lot of work, and even more planning. It's a complex job with a lot of moving parts.
What is school facility management?
School facility management is the practice of managing and maintaining all school-owned facilities and assets.
School facility management team's chief role is to ensure facilities remain in good working order. This includes everything from structural issues of school buildings to features like heating, cooling and ventilation, lighting, internet access, and anything else that contributes to creating a safe, secure learning environment for students, and a proper work environment for teachers and staff.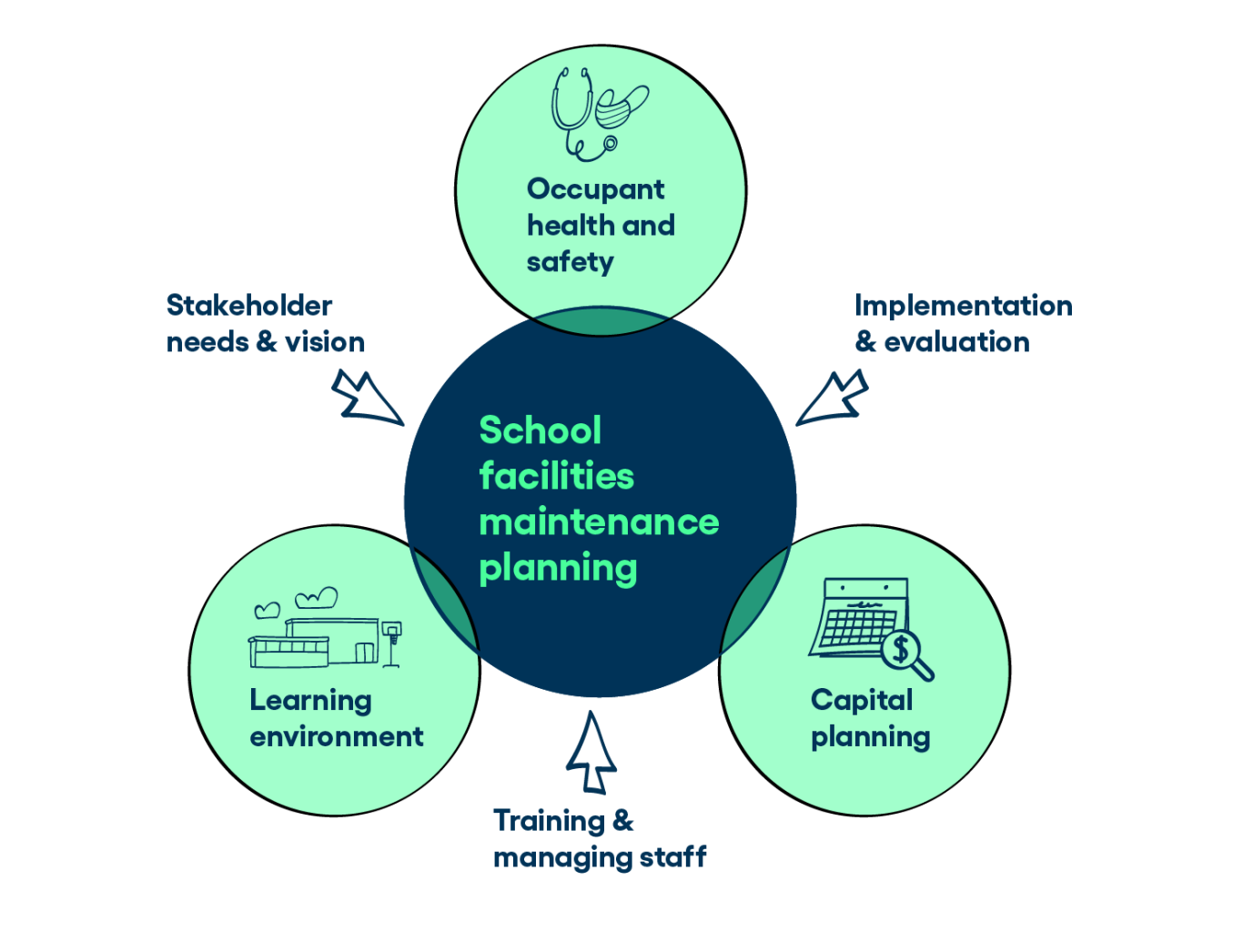 Resource management is a large component of school facilities management, since caring for educational facilities can take up a large portion of a district's budget. This involves hiring maintenance teams and providing them the tools they need to keep buildings clean and safe, having processes for reporting when facilities are in disrepair or need maintenance, and ensuring facilities are running efficiently at all times.
School facilities management directly impacts the learning experience. The health and safety of everyone who occupies school buildings and district facilities are first and foremost, but from a day-to-day perspective, a lot goes into the real-time management of a system of large buildings throughout a school district.
In short, a well-run, well-maintained facility promotes a learning environment where teachers can teach, and students can learn free of distractions.
Most school systems employ a computerized maintenance management system (CMMS) to help manage these ongoing demands. CMMS software is an essential tool for facilities managers to organize tasks, create work orders, and schedule maintenance. Facilities management software for schools helps build a base on which an effective management strategy can begin.
Elements of school facility management
For most school systems, cost is certainly a consideration in facility management, particularly for public schools, where budgets are often notoriously tight.
Buildings, premises, and plants
Routine and preventive maintenance performed on a schedule or as needed helps keep the premises clean and in good working order. School facilities consist of the physical structures and building systems within a school district, along with the mechanical, plumbing, electrical and power, telecommunications, security, and fire suppression systems.
In addition, associated aspects of the building grounds like athletic fields, playgrounds, outdoor learning areas, and vehicle access and parking are also counted, along with furnishings, materials and supplies, equipment and information technology. That's a lot of ground to cover for one building, much less an entire system of buildings.
A CMMS solution such as Brightly Asset Essentials can help you manage and maintain assets and facilities, creates a maintenance schedule and streamline the work order process.
Space planning and organization
Space planning is the process of planning, designing, and controlling the use of a building's space to optimize efficiency. This means putting systems in place to ensure rooms don't get double-booked, allowing staff to host meetings and events, and creating an organized and welcoming environment for all. It's about making informed, intelligent decisions about the space afforded to each building, whether rearranging a room's layout or (when realistically possible) even rearranging the building's layout to maximize the use of space.
Space planning and organization means optimizing the movement of people and equipment within a space to ensure traffic flow is consistent and orderly. Facility managers are responsible for the day-to-day operations of a building, including:
Storage
Furniture placement
Workstation design
Lighting
Acoustics
Effective space management software, such as Brightly Event Manager, allows the school district to save money and increases productivity by creating a better workplace experience.
Health and safety
Ensuring the health and safety of the people who enter buildings owned and/or operated by school districts are paramount to facility management. This is the primary role of facilities management and includes ensuring buildings are structurally sound and establishing emergency protocols and procedures and remaining up to date on relevant compliance standards.
Security
Similarly, ensuring school and administrative buildings are secure from threats is also important to health and safety efforts. These involve adding alarm systems, surveillance systems, and functioning campus access control to protect the facilities and the people who occupy them.
Energy efficiency
Creating energy-efficient school facilities is both environmentally and fiscally responsible since energy efficiency is connected to the costs of heating and cooling, which directly impacts budgets. Energy management software like Brightly Energy Manager, helps schools identify waste, improve sustainability, and track energy-saving initiatives, which can save the district money.
Resource management
School facility managers are also generally responsible for managing school resources, including providing equipment and supplies, restocking and organizing inventories, budgeting, and ensuring staff has access to the resources they need.
Keeping track of these resources on the fly, particularly with shared equipment and materials, reduces stress both on facilities managers and on teachers and staff, who often need equipment at a particular time. A mobile CMMS option is very often helpful in resource management.
Maintenance and work orders
Work orders are an integral part of tracking maintenance requests, and creating a preventive maintenance plan is critical to effectively manage the district's assets. Using asset management software for schools can help streamline work order management, plan and schedule preventive maintenance, and optimize communication with maintenance workers.
Benefits of school facility management
Implementing processes that help staff prioritize where maintenance needs to be performed, money can be saved, and how spaces can be used, schools are able to utilize their resources to their full potential.
Support student learning & engagement
Having a strong school facility management plan keeps the school system organized and well-maintained, creating an optimal learning environment and preventing distractions that would otherwise be a detriment to learning. For example, research shows that students focus better when they're comfortable with their learning environment, and are less likely to become ill when they have proper ventilation and well-lit classrooms.
Reduce operational costs
A good facilities management plan can help reduce operations costs, bringing overall cost savings to the district. The return on investment is often not visible in terms of increased revenues, but savings show up in these areas.
Equipment replacement costs: Maintained equipment does not need to be replaced as frequently, leading to savings in replacement cost.
Renovation costs: By focusing on preventive maintenance, building and facility renovations need to happen less frequently because fewer large-scale repairs are necessary.
Overhead costs: Things like utility bills will be lower over time, since maintained buildings are more energy efficient, and equipment like HVAC systems run more efficiently when they're well maintained.
Simplify processes
Having a sound plan that includes processes that are simplified for things like maintenance scheduling, event planning, and capital budgeting, staff and faculty experience less stress and confusion.
Tips for effective school facility management
With so many moving parts, managing a school can be a daunting task. But equipping your facilities team with these tools and giving them the space to properly implement them can lead to an organized, smooth-running facility that meets the goals of the district, the tight budgetary constraints, and the needs of learners, teachers, and staff.
Utilize facility management software for schools
Integrating facilities management software for schools helps you take control of your school district's operations. A strong software platform will help you save money, preserve facilities, forecast the impact of spending decisions, identify waste, and prove funding requests to support a smarter planning strategy.
Take a proactive approach to maintenance
It's easy to let maintenance become a reactive process. But being proactive is key to keeping costs down, performing preventive maintenance, and preventing higher costs down the road when equipment breaks. In fact, performing preventive maintenance can lead to a 63% drop in maintenance spend over the course of 3 years.
Leverage sustainable solutions
Having a smaller carbon footprint is a foremost concern for facility managers. Creating greener, more efficient operations, whether it's reducing waste, maintaining recycling services, or using equipment with high Energy Star ratings, sustainability is good business. Implementing an energy management software platform can help facility managers accomplish and maintain these sustainability initiatives as part of a maintenance management software package.
Take your next step toward effective school facility management with Brightly Software
Would your school facility management efforts be helped with a facility management software platform? Brightly's experts can help you determine which solution best fits your school's needs.
Sources
Buitleir, D. de. (2022, June 24). The ultimate guide to space management for facilities managers. Wayleadr Blog. https://wayleadr.com/blog/space-management-ultimate-guide-facilities-managers/#:~:text=Conclusion-
Chapter 1 Introduction to School Facilities Maintenance Planning, Planning Guide for Maintaining School Facilities. (2019). Ed.gov; National Center for Education Statistics. https://nces.ed.gov/pubs2003/maintenance/chapter1.asp
​​sitelogiq. (2020, February 19). How K-12 Facilities Impact Student Learning and Health. SitelogIQ. https://www.sitelogiq.com/blog/k12-facilities-impact-student-learning-health/#:~:text=Researchers%20have%20found%20that%20the