Blog
Doing more with less: technology helps in challenging economic times
The data is in and verifies what we all see in our personal lives: everything is more expensive. Inflation, supply-chain turbulence, lingering pandemic challenges, challenging labor market – the reasons are plenty. Bottom line: it is hard right now to stay on budget or if appropriate for your organization, turn a profit. 
If you have gray hair like I do, you have seen these challenges in the past – a naturally cyclical process: economies have their ups-and-downs. Current economic conditions won't last forever, but while they do, you will likely have extra scrutiny from your finance-based teammates. Like previous challenging economic times, utilizing technology to allow you to "do more with less" is a powerful, often secret weapon to help keep those finance people happy. If you have not yet invested in optimizing your operations team through technology such as CMMS (computerized maintenance management system), EAM (enterprise asset management), IoT (the Internet of Things) or similar "lean" operations tools, now is a good time to do so. Investments into these technologies is cost future proofing, continuous improvement process that helps weather these challenging times. 
What's the problem?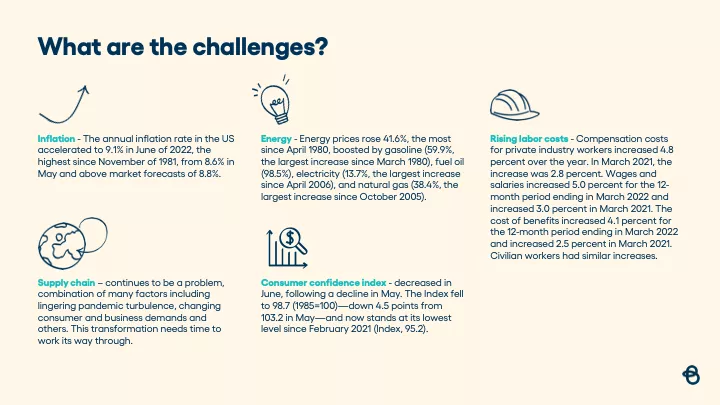 Inflation - The annual inflation rate in the US accelerated to 9.1% in June of 2022, the highest since November of 1981, from 8.6% in May and above market forecasts of 8.8%. [1]
Energy - Energy prices rose 41.6%, the most since April 1980, boosted by gasoline (59.9%, the largest increase since March 1980), fuel oil (98.5%), electricity (13.7%, the largest increase since April 2006), and natural gas (38.4%, the largest increase since October 2005). [1]
Supply chain – continues to be a problem, combination of many factors including lingering pandemic turbulence, changing consumer and business demands and others. This transformation needs time to work its way through. 
Rising labor costs - Compensation costs for private industry workers increased 4.8 percent over the year. In March 2021, the increase was 2.8 percent. Wages and salaries increased 5.0 percent for the 12-month period ending in March 2022 and increased 3.0 percent in March 2021. The cost of benefits increased 4.1 percent for the 12-month period ending in March 2022 and increased 2.5 percent in March 2021. Civilian workers had similar increases. [2]
Consumer confidence index - decreased in June, following a decline in May. The Index fell to 98.7 (1985=100)—down 4.5 points from 103.2 in May—and now stands at its lowest level since February 2021 (Index, 95.2). [3]
Although the data is alarming, we have been here before and will be here again in the future. How you handle these times will depend on how well you ready your organization. "Lean" operations are key to weathering tougher economic conditions. 
What is "Lean" Operations?  
"Lean" equals intelligently "doing more with less". "Intelligently" is a key phrase here. You can't just blindly make cuts to staff, hours, spare parts, etc. You must be smart about it. A CMMS has numerous levers and abilities than can create efficiencies in your operations that translate directly to reduce costs. Given rising expenses in many categories, this can be the difference between making your budget or missing. If you are a for-profit organization, this can tilt the scales favorably towards profitable. 
Some of the many ways a CMMS help with "lean" operations: 
Shift from reactive to preventive maintenance: a preventive maintenance culture has long proven to be more predictable, cleaner, easier and far less expensive maintenance strategy than the corrective/run-to-fail mentality. It just takes some time and energy to kickstart PMs. CMMS is a key part. 
Optimize maintenance or operations staff: Having the right person, crew or contractor, with the right tools and parts, at the best time to do the work will result in a positive impact on the efficiency of your operations.  
Smart spare-parts management: having the right part, at the right time is essential – especially given the challenges in the supply-chain is essential.  
Help with safety and compliance: avoiding accidents and making sure regulatory compliance is up to date will create a safer, better culture and allow more efficient operations. A CMMS can greatly assist. 
Identify "bad actors": relying on the reports, KPIs, analytics and similar will show you where your troubles lie and help you get on a path to improve. This will reduce costs and promote lean operations. 
How can IoT Help? 
The Internet of Things (IoT) is technology that allows our buildings, facilities and assets tell us humans when they need to be maintenance – predictively. IoT is many things: 
Sensors that can be attached to existing assets 
Working with data from existing smart-assets, IoT platforms, etc. 
Brightly Smart Assets for Asset Essentials™ IoT platform is a tool that manages IoT. Smart Assets technology utilizes a huge catalog of sensors that can be easily retrofit and attached to an existing asset. These sensors automatically, wirelessly transmit metrics such as vibration, temperature, pressure and many others. Smart Assets will evaluate this data and if outside tolerance, automatically create a work order in Brightly Asset Essentials™ (CMMS) – completely automated and streamlined. Normal workflow takes over from there. A technician or contractor will be automatically alerted, and a solution can be made much, much faster than old-school reactive maintenance. This will reduce downtime, preserve the life of the asset, improve asset, facility operations, reliability, etc. The main goal: catch problems early before they become expensive and disruptive. All of this will save a heck of lot of money. 
The data is clear:
CMMS and IoT saves you $ 
CMMS does a lot of valuable positive things for your operations: safer, compliant, optimized team, more uptime and others. All these positive actions will also control costs and ultimately keep you on budget and profitable even in these tough economic times. A common phrase I have heard for decades: "I don't have the budget for this!". Understandably – money is always tight. But this is an investment and a relatively minor one with major return-on-investment. Look for future blogs breaking down the actual $ savings.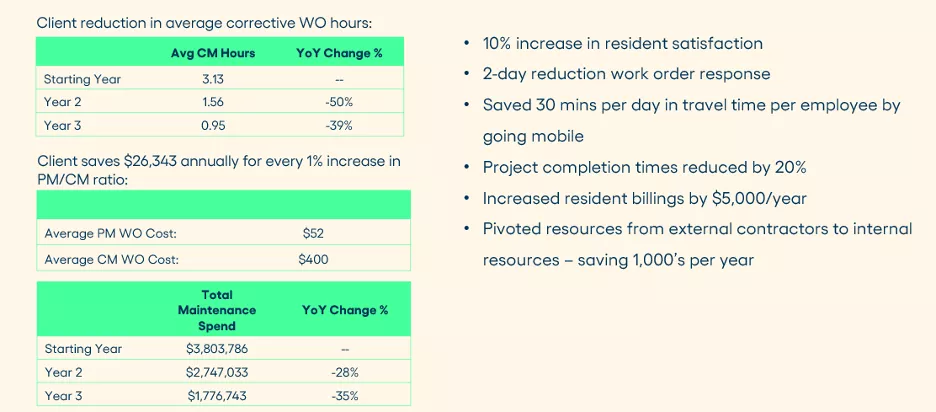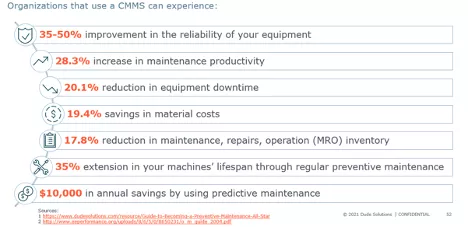 Sources: 
1 United States Inflation Rate - July 2022 Data - 1914–2021 Historical - August Forecast. (n.d.). TRADING ECONOMICS. Retrieved August 10, 2022, from https://tradingeconomics.com/united-states/inflation-cpi 
2 US Department of Labor. (2022, July). News Release: Bureau of Labor Statistics (USDL-22-1553). Bureau of Labor Statistics. https://www.bls.gov/news.release/pdf/eci.pdf 
3 The Conference Board. (2022, July 26). US Consumer Confidence Latest Press Release. Retrieved August 10, 2022, from https://www.conference-board.org/topics/consumer-confidence