Blog
Inflation-Busting Part 4: Optimizing Spare Parts Management in an Inflation and Supply Channel Challenged Environment
Note: this is, Part 4, an expansion on the "Inflation-Busting: Controlling Costs with CMMS". Today's focus is around optimizing your spare parts management.
Today's financial ecosystem continues to challenge business and organizations across all sectors. Inflation continues to stay at record levels, affecting not only our personal lives, but also our organizational budgets. Money is hard to come by for everyday operational expense increases, you must find ways to operate lean and efficient. Much of these headwinds, like inflation and supply chain challenges, are beyond our personal control—how can we keep up with the maintenance and related demands of our organization? How can we not let something like a small, missing spare part have a disruptive effect of our operations? Computerized maintenance management systems (CMMS) can provide much needed relief in very specific ways. In this blog, we discuss where you can find efficiencies that alleviate these headwinds, as well as keep you on-budget and profitable.
A CMMS optimizes spare parts management
It sounds like something basic: having the right spare part, at the right time and (hopefully) at the best price. There was a time when most people did not ponder this concept—you needed something, you grabbed off shelf or ordered and it shows up quick—not anymore. For maintenance operations professionals, nothing is worse than heading over to do a work order, start the job and discover you need a part, only to find out they don't have one in stock. This disruptive situation is often called a "stock out"—missing a critical spare part for a preventive or corrective maintenance work order. A CMMS help you in numerous manners—having a solid inventory of all spare parts, identifying the parts you will need for your shift, knowing what you are low on and helping you get an order in and analyzing spare part usage.
Why is managing spare parts such a challenge these days?
Two of the most impactful answers are availability and rising costs. "Supply chain" is a phrase that moved from a relatively small number of people in the business logistics world to everyone from the board room to the kitchen table. This started pre-covid 19 when US/China tariff challenges started in 2019, but the global pandemic was a major catalyst in terms of disrupting the supply chain. The reasons for this are aplenty, but suffice to say that parts (and everything else) take longer to arrive and often requires changes to alternative vendors. The second reason is these parts are likely more expensive—often significantly. Inflation is impacting us everywhere in our personal and professional lives. Neither supply chain disruptions nor inflation are within our direct control. But we can do the next best thing: create lean and efficient operations, lessening the impact.
How can we optimize spare parts management?
Like many aspects of maintenance operations, operating "lean and efficient" is a controllable process that can reduce the impact of uncontrollable factors, such as supply chain and inflation challenges. Unplanned downtime is extremely disruptive. Even worse: start working on a corrective maintenance work order, discover you need a spare part, only to find out you need to order that part (stock-out). Given the likely delay of that parts order and extended unplanned downtime, you can hear the cries of anger from those affected by this disruption.
"Just In Time" (JIT) Inventory is a methodology often discussed over the last few decades. The idea is great—have "just enough" parts on hand, order when you get low. Your finance organization loves this for several cost/tax and related reasons. Today, JIT is not broken, but the ability to have "just enough" is very tough to measure. There are options: Alerts to low stock must be much earlier and likely at large quantities. You cannot wait until the day before you need them; you might need to be alerted weeks in advance. Fortunately, CMMS spare parts inventory control features can accommodate warnings based on current supply chain challenges. Every spare part has numerous characteristics: part number information, vendors you buy from, current quantity-on-hand and high/low stock level warnings. As you get "low" (again, "low" today might be 10 times higher than previous times), alert the team. This can be in the form of an email, mobile device alert or dashboard KPI—all automatically. Each day, you can see all parts you need to order and possible vendors for procurement, including where the best price can be attained.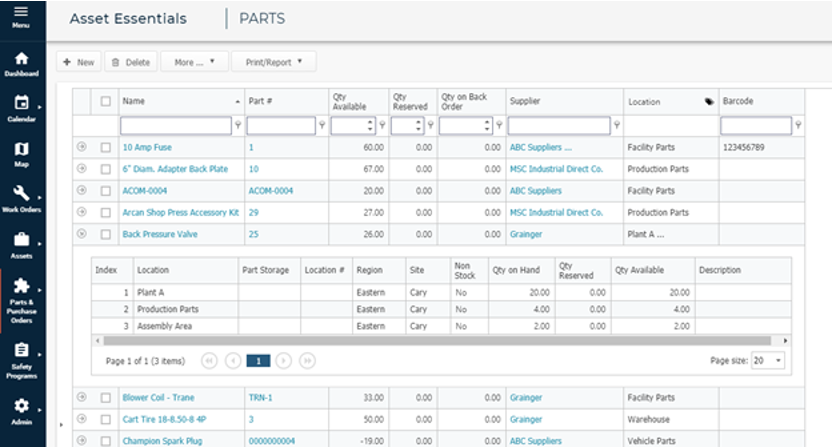 Knowing the parts you need for upcoming preventive maintenance (PM) is essential. PMs can be built with detailed instructions, as well as a list of the parts you will need. Knowing a combination of those needed parts and the PM schedule, the team can avoid "stock outs" by making sure those parts are on-hand before theses PMs are started.
We will always need to stock spare parts for emergency work orders, but if we shift our operations toward more preventive (and even predictive) maintenance, you use fewer spare parts. There are amazing financial benefits beyond the spare parts savings: less downtime, better reliability of assets and facilities, better use of the maintenance team's time and more. If your organization is in "fire-fighting" mode when it comes to maintenance, you need a CMMS for many reasons beyond spare-parts management.
Mobile CMMS is a big help. Knowing the on-hand quantity of a part you need, right in the palm of your hand, is very helpful, saving that dreaded situation when you walk across your facility only to find you are out. Barcode scanning helps even more. Also, as you tackle work orders, decrementing those parts you use right away will help keep those quantities accurate in real-time. This helps everyone involved, from other techs who might need those parts to the person managing the orders.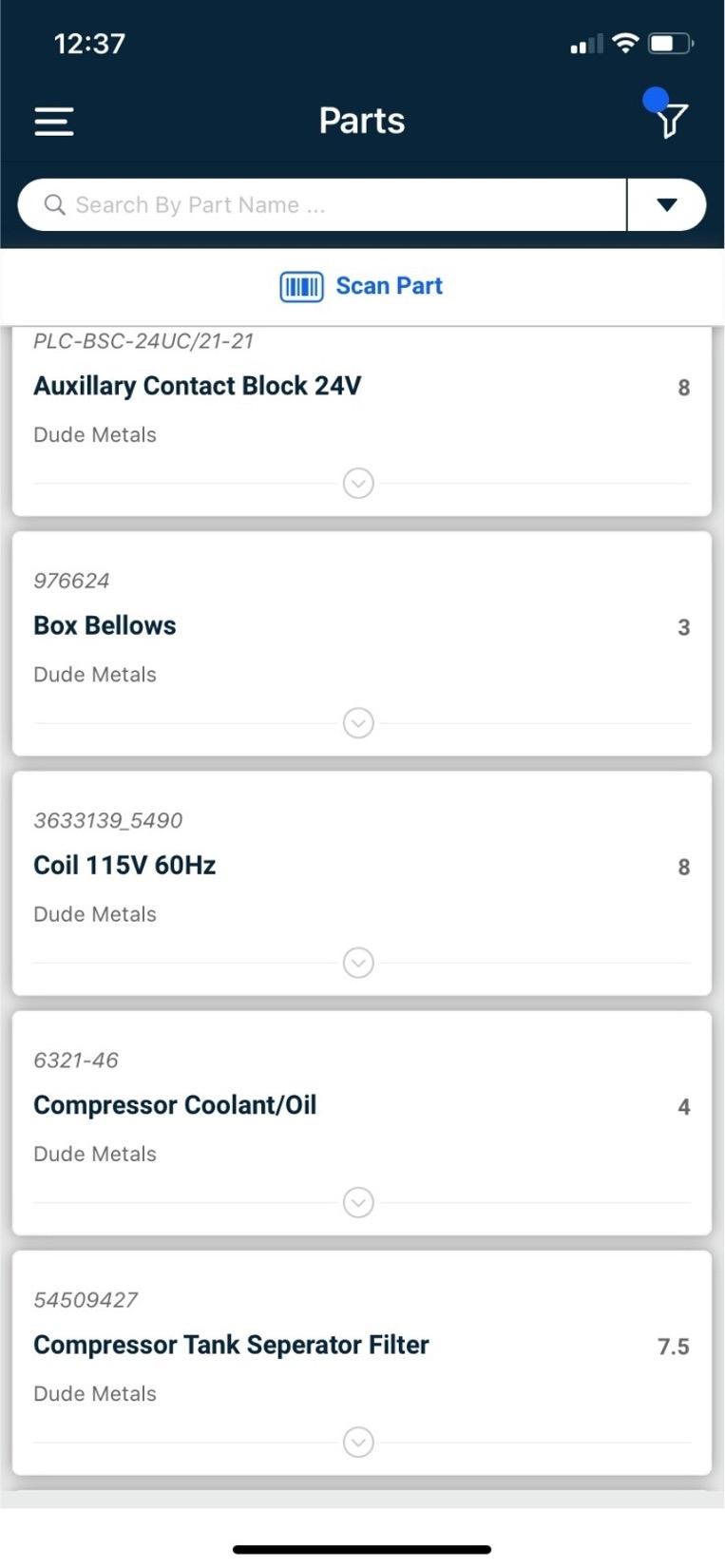 A CMMS can also utilize analytics, reporting and KPIs to optimize your spare parts usage by showing part usage, trends and related.
Does CMMS parts management pay off?
In short—YES. If you look at the hard costs, such as unplanned downtime extended by that missing part, it can have a major reduction. This is a huge cost-saver. Having better visibility into the supply chain in terms of the vendors you order from, lead times and related help reduce overall costs. Team optimization is increased by ensuring the technician can complete the job when intended and without delays. Spare parts management is one of many capabilities of a CMMS—all are designed to help promote lean and efficient operations.
Conclusion
Will the supply chain every get back to "normal?" I think we must redefine what "normal" is and always assume there will be challenges at varying levels. If you optimize your operations to accommodate the many curveballs we see when ordering parts, you care less about those challenges. Will parts ever become "affordable?" Again, it's all relative and the macroeconomics of inflation are beyond our personal control. But a CMMS allows us to optimize what we can control, optimizing operations to help control costs where possible.
Read Part 1, Part 2 and Part 3 of Paul's Inflation-Busting series.