Blog
Inflation-Busting: Team Optimization Spotlight
This is an expansion on the Inflation-Busting: Controlling Costs with CMMS. Today's focus is around optimizing your maintenance operations team.
Today's financial and labor markets are challenging. Baby-boomers are retiring at record pace – especially in maintenance and operations. At the same time, we see people jumping to new jobs (i.e., the "great resignation"). Adding more fuel to this fire is the lack of seasoned younger people entering the workforce that can fill these positions. All of this is having a big impact on our organizations. Much of this is beyond our personal control – how can we keep up with the maintenance and related demands of our organization? The goal is to find ways to "do more with less". Computerized Maintenance Management Systems (CMMS) can provide much needed relief in very specific ways. In this blog, we discuss where you can find efficiencies that alleviate these headwinds as well as keep you on-budget and profitable.
Building, retaining and motivating your maintenance operations team is essential. When budgets get tight, but the workload does not slow down, you cannot blindly make cuts – especially with your team. It is essential to find areas where operational improvements (sometimes called "continuous improvements") can save you money, while simultaneously keep up with the same level of maintenance and operations services your organization expects. These optimizations will make the difference in tough economic and labor-constrained times, setting you up for future improvements down the road as the economy eventually improves. Brightly Asset Essentials™ is a CMMS that can truly help optimize your team, allowing you to be "lean" in your operations.
Find the right technician with the right skills and availability to do the best job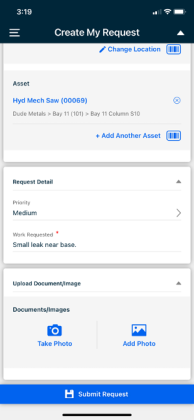 Optimization should occur through the whole work order lifecycle. From the point where a maintenance issue is detected, all the way to final verified completion. Automating requests is a great use-case. This includes using mobile devices where your team can easily create a request, take a picture of the issue and submit a ticket, kicking off an efficient workflow with the maintenance team.
Ensure that the technician performing the work has detailed appropriate information. Including notes on reported issue, specific location, excellent instructions to repair (including possible picture, video, etc.), the parts you may need and more. A CMMS is extremely beneficial here – the less the technician must research and run around, the better. With a cloud-based system, the technician can automatically be notified about the work order and manage it from anywhere on their mobile device or computer.




There is a balance of assigning work to team members. There is a delicate combination of matching the right person with the right skills as well as making sure you are not over (or under) loading people. A CMMS can give excellent visibility into the big picture of how your team is functioning.
Shift to a more preventive maintenance culture
Start your journey away from the fire-fighting work stream of reactive maintenance. A CMMS easily automates preventive maintenance (PM) work orders – this investment will drastically reduce disruptive and expensive corrective maintenance and unplanned-downtime. If your organization leans towards more corrective maintenance, start by automating PMs for your critical assets where you feel the most negative impact. As you make time for your PMs, you will find reduction in the disruptive, more expensive, and time-consuming reactive WOs. 
PMs (like all work orders) should have excellent instructions, parts you may need, safety-related documentation, etc. – anything you need to get those work orders done on a timely basis. Through the various dashboards a CMMS has available to you, you can see your PM schedule co-mingled with your reactive. Additionally, your team will easily see the work they need to do and find an appropriate balance.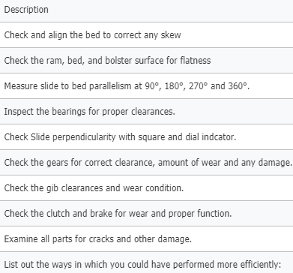 Make progress on your maintenance backlog 
As you shift towards more PMs, your team will be freed up to take care of other work that you never seem to be able to get too. Backlogged and deferred maintenance is easily identified in a CMMS – knock those work orders off as the team's capacity increases.
Focus intelligently on your to-do work
"Emergency" is the most selected priority for work orders. Is everything truly an emergency? A CMMS can allow you to properly and intelligently prioritize work orders. Every asset can have a "criticality" rating range. If you combine a work order priority with the asset criticality, an automated "calculated criticality" score is calculated (often called a "RIME index"). This allows you to sort your work orders intelligently so you and your team can focus on the work in a properly prioritized manner (vs. seeing everything as an "emergency").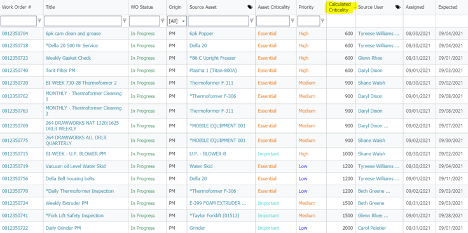 Your software should model how you run your team or organization
Asset Essentials has robust escalation, notification and workflow control. This flexibility and intelligence becomes essential as you want the software to mold to your needs and processes. As you describe your challenges, wishes and goals to the Brightly services team, they can work with you to model intelligent workflow. For example, as a work order is created, automatically check who is the best person(s) or contractor to work on that asset and assign automatically. This will kick off a notification so that the technician is alerted. This shortens "Mean Time to Repair" MTtR – essential to operating efficiently, creating lean workflows and streamlining remedies.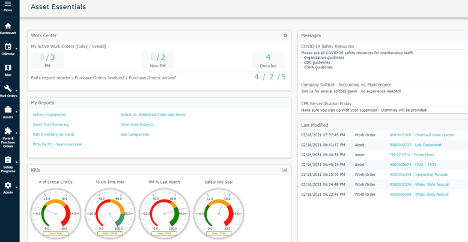 Have solid insights into you and your team's work
As you log into Asset Essentials, you are alerted to exactly what you and your team need to be working on. You can also see key performance indicators (KPIs) that can show you if you are on target with your goals.
Consider IoT to automate work orders
Using Brightly Smart Assets IoT for Asset Essentials™ platform you can let your assets and facilities tell you when they need maintenance. For example, easily affix an affordable, wireless sensor on a pump. When that sensor gets vibration readings that are outside acceptable levels (indicating possible cavitation and impending downtime) – a work order will be automatically created. This kicks off the normal workflow with the team, dramatically shortening MTtR and overall disruption.
Optimizing your team pays off:
Examples from existing clients using Asset Essentials, showed a reduction in average work order time from 3.13 hours down to 0.95 hours. Cutting average WO time by 33% frees up those technicians to be working on preventive maintenance, getting ahead of backlogged maintenance and other more productive tasks.
Preventive maintenance is far less expensive than corrective. Client data shows that the average cost of a correct maintenance work order is $400. The average cost of a preventive: $52! Do the math: PMs are not only better for stability of your operations, but they are also far less expensive. 
The bottom line
You can't control the labor market, retirement or lack of quality learning institutions to equip the next generation of maintenance professionals - but you can optimize your current operations to "do more with less." A CMMS is the tool you need to help your teams operate as efficiently as possible – allowing them to move from reactive-to-preventive posture. This benefits the whole organization: lowering costs, improving safety, keeping up with maintenance demands and improving culture and morale.