Blog
An Introduction to IoT, CMMS and the ISA-95 Framework
We have all heard of the "Internet of Things" (IoT) or in the manufacturing/industrial sectors, "Industrial Internet of Things" (IIoT). This very generic acronym has amazing real-world value but is often difficult to actual see, hear or touch, let alone understand.
In summary, IoT refers to interconnected sensors, instruments and other devices networked together with computers' industrial applications, especially in the manufacturing environment. This connectivity allows for data collection, exchange and analysis, allowing for improvements in productivity and efficiency with the overall goal of improving asset performance, uptime, longevity and ultimately profitability.
A computerized maintenance management system (CMMS) is a cloud-based software tool that optimizes maintenance operations with the goal of improving asset uptime, quality and longevity. CMMS is one of many software tools used in manufacturing.
Learn more in our guide, Why a CMMS Is Essential for Lean and Six Sigma Strategies.
What is the "ISA-95 Framework"?
ISA-95 is an international standard from the International Society of Automation for developing an automated interface between enterprise systems/applications and industrial control systems. This standard was developed to be applied in all industries, and in all sorts of processes (batch, continuous and repetitive). It is a global standard.
In short, the goals of ISA-95 provide standard and consistent terminology, which makes it much easier for supplier and manufacturer communication and create a foundation for consistent information and operations models. This framework makes it much easier for the wide variety of technologies (hardware, software, networking, etc.) to work together.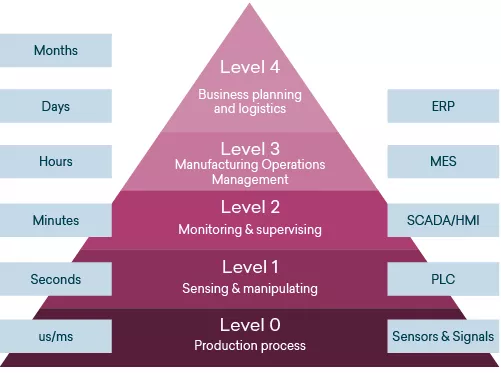 There are 5 levels within the ISA 95 framework. The lower levels live much more in the physical world, while the higher ones are largely digital/cloud-based.
Level 0 – Production Process
This is the lowest level and refers to the actual physical environment. This is where the rawest of data is coming off the factory floor, facilities, fleet or any other source where sensors and signals can be originated as part of the manufacturing process. This data is often at very small granularity and can be massive in volume, often being measured in extremely fast time increments (milliseconds or even down to µ seconds).
Level 1 – Sensing and Manipulation
Assets in the manufacturing environment can be "sensed" (think of sensor broadcasting temperature, pressure, cycle-count, etc.) or "manipulated" (think of shutting off a valve or turning equipment off or on). Connectivity comes right from the assets from sensors—either native, built-in (modern "smart assets") or possibly retrofit that can broadcast. Inbound data is now ingested in seconds.
Level 2 – Monitoring and Supervision
At this level, your assets and systems can be monitored and often displayed as raw data streams with some visualizations. Automation control hardware, combined with software (SCADA and HMI) can be utilized to manipulate and control the plant systems, assets—basically control the physical processes. Examples might include turning on or off HVAC systems, shutting down a pump or simply watching values from the assets. Actions are now measured in minutes.

Level 3 – Manufacturing Operations Management
Typically measured in hours, level 3 is a large area of operations that sits right between the physical and digital worlds. Actions such as scheduling, workload balancing, optimizing production and other processes are at the heart of this layer—all to help achieve the manufacturing goals of an organization. "MOM" (manufacturing operations management) systems—such as MES (manufacturing execution systems)—live squarely in this level. CMMS straddles levels 3 and 4.
Level 4 – Business Planning and Logistics
Typically measured in weeks of even months, this level is responsible for aligning business goals with manufacturing operations. This is where high-level business and logistical planning occurs. ERP (enterprise resource management), SCM (supply chain management) and CMMS live in this level. Data from level 3 is essential to aid in smart decision making for level 4.
Where does IoT come in?
IoT (or IIoT, as most would say in industrial applications/manufacturing) permeates and offers value for all levels of the ISA-95 framework but is much more heavily weighted at levels 0-3. IoT, one of the primary technology drivers of the 4th industrial revolution, is all about connecting everything—our assets, devices, facilities and people, so this this naturally the "glue" that binds all the ISA-95 levels.
 IoT generically binds the digital and physical worlds
Examples include:
For manufacturing processes, IoT technologies will allow active, digital monitoring of assets to determine production workflows such as asset utilization, widgets produced, quality of production and other metrics allowing for real-time OEE (overall equipment effectiveness. This would be a combination of levels 0-3.
For maintenance operations, IoT allows assets to tell humans when they need maintenance (preventive or corrective). For example, if a temperature sensor shows outside of guidelines, an alert and ultimately a work order can be created. Likewise, if an asset has been running for X hours/cycles/etc., preventive maintenance workstreams can be automatically initiated. This data starts at level 0, but much of the maintenance operations workflow lives in levels 3 and 4.
For business activities, planning for growth, asset utilization, sales demand and others often live in the level 4 (ERP and similar). This data initiates from all levels but often consolidated for longer-term analysis and planning.
CMMS Loves IoT
As IoT gains more popularity, easier to install and cheaper, CMMS will be a clear beneficiary. Our assets can tell us when they are not healthy or need routine checkups. This will create better uptime, quality production and leave more time for your team to continue onto more productive tasks. IoT will help create a more preventive culture, controlling costs and improving profitability.
Conclusion
ISA 95 helps create consistent terminology across many aspects of the manufacturing operating environment. This is good for everyone: technology providers, manufacturers and their suppliers/partners. It also helps us visualize the dynamic relationships between the digital and physical worlds. IoT is an extremely generic concept that can be summarized as "connectivity"—it is a critical part of the glue that binds the ISA 95 framework.