Video
SmartGov Community Development Product Overview
Watch to see how you can use Brightly's SmartGov™ licensing and permitting platform to streamline your workflow, reduce liability, increase transparency and facilitate your community's needs by optimizing your processes.
Permitting, licensing, inspections, planning, code enforcements, when your organization loses efficiency with these important government operations, your citizens suffer. Paperwork piles up, information gets lost, and your response time increases. Without the proper tool, you can quickly lose control of these operations. But what if there was a centralized system where you could manage everything in one place? What if you could have it all organized at your fingertips so nothing ever falls through the cracks?
The future of operations management is here with SmartGov. Our unified cloud software is designed to help government organizations like yours dramatically reduce time cost and error, while improving citizens satisfaction in safety and driving development and revenue within your community. With our streamlined community development software your team can work smarter thanks to automating permit processing workflows for greater efficiency and citizen satisfaction.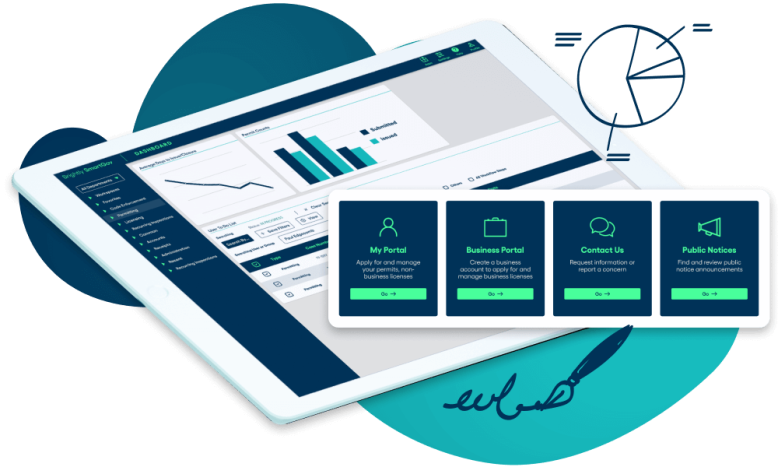 Managing all aspects of licensing, including renewals, expirations fees and inspections. Enabling digital plan reviews and paperless processing task routing and reporting automating code enforcement from complaint submittal to resolution to improve efficiency and public safety. Simplifying inspections by streamlining workflows, task lists, scheduling and note taking. Leveraging mobile technology that allows you to be just as efficient in the field as you are in the office.
Accessing reliable reporting that increases visibility into your operations, utilizing an easy to use configurable citizen portal that unifies and streamlines applications GIS mapping public notices, inspections and online payments. Plus, you get a strategic partner who's always by your side to help you find a better way to work for your community. We'll be there when you need us.
To learn more, request a personalized demo to see how we can help you own your operations.