Blog
How a CMMS Is Key to Eco-Friendly, Green Maintenance (That Saves You Money)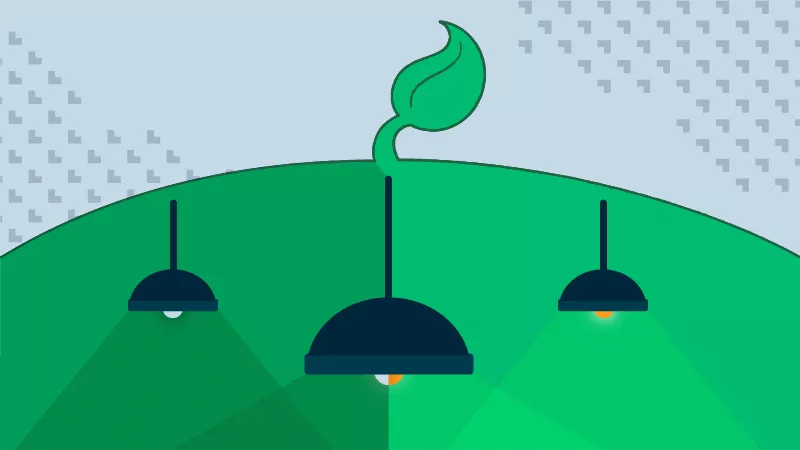 All of us understand (or should!) that there is a negative impact of unplanned downtime of our assets and neglected maintenance of our facilities – especially as leads to direct financial costs. But do we truly understand the ripple effects – both financial and environmental? 
Poorly maintained facilities and assets breakdown more often – that is a fact. They also require more energy and create more waste. If you are a manufacturer, this often leads to poorer production quality (scrap and rework). If you work in healthcare, this can lead to negative patient outcomes. If you run a school or work for a municipality, your students, citizens and staff are negatively impacted.
Regardless of industry, with neglected maintenance you often end up prematurely retiring equipment, which is not only expensive to replace, but end up in our landfills. All of this is bad for our organizations – operationally, financially and environmental sustainability. The numbers prove it.
How a CMMS helps you go green
We can make our operations run smoother and help with our "green" sustainability initiatives. A CMMS (computerized maintenance management system) is key to optimizing a maintenance organization.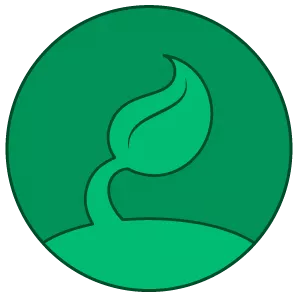 From a maintenance operations standpoint, there are numerous areas to focus on where we can make it better, all assisted by CMMS:
Optimized preventive maintenance to keep buildings and assets operating at peak efficiency
Mobile features – helps you operate paper-free
Intelligent spare parts management – including the benefit of minimizing delivery (reduce carbon impact)
Optimized energy management – typically the second or third highest costing budget item for most organizations
Reduce waste – a generic topic including scrap/rework, water/sewer, heat/cooling
Smart building – optimizing facilities and factories through automation with IoT, workflow, intelligent maintenance
Let's break down each of those areas to better understand their impact.
Focus area: Keeping our buildings and assets operating at peak efficiency
Most people understand that assets and buildings that are well maintained will last longer, consume less energy, better serve their staff/customers, and if you manufacture – create better products. Anyone who has had to replace an expensive HVAC unit, unexpected roof repair or overhaul a production asset due to straight-out neglect will shake their head on how tough those conversations go with management. This leads to disruptions, higher operational costs and decreased team morale. And it also harms our one and only planet.
Benjamin Franklin said it best: 'an ounce of prevention is worth a pound of cure.
And fortunately, that "ounce of prevention" is overall less disruptive and costs significantly less than the "cure."
A run-to-fail maintenance culture not only hurts our operations and bottom-line, but it also hurts the planet:
Buildings and assets that are poorly maintained consume more raw materials, especially energy.
Prematurely retired assets are not only unexpected and dreaded capital expenses, but they also have an impact on the environment by filling our landfills. Replacement assets hurt as well, contributing to carbon emissions through production and shipping.
Our fleets consume more fuel, exhaust unnecessary pollutants and retire prematurely.
The solution 
Use a CMMS software to track and maintain your assets, including an optimized preventive maintenance plan. The Society of Maintenance and Reliability Professionals (SMRP) call for an 80% preventive/20% corrective work order ratio to be stable (90/10 for world-class).
Regardless of where you stand, having a system to help you to improve your ratio is essential.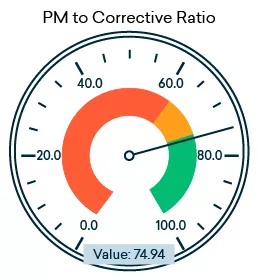 Knowing where you stand on your PM completion rate is important.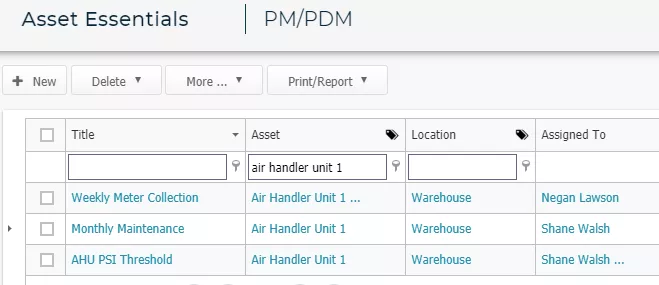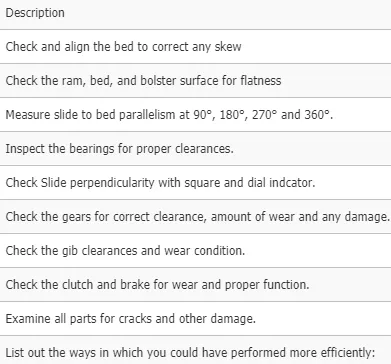 Building out a library of preventive maintenance routines with detailed instructions will help insure against premature failure.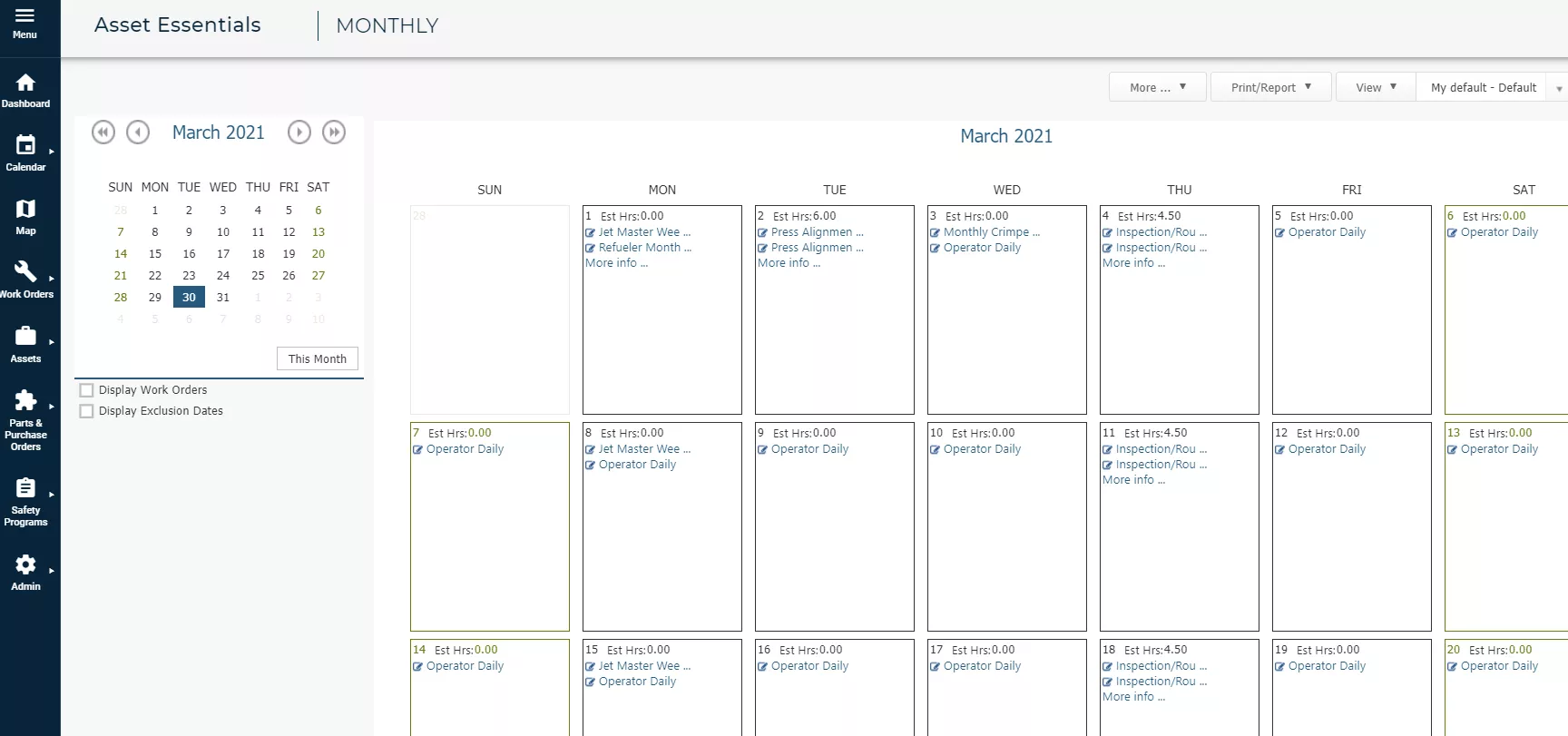 Visibility into the future PMs to better plan, schedule and organize. 
Focus area: Paperless through a mobile CMMS
A mobile CMMS allows you to have all your work orders, PMs, assets, spare parts, safety and other maintenance operations data in the palm of your hand. Add bar codes, camera, talk-to-text and other benefits of these amazing devices and it makes for an amazing, optimized maintenance operations environment.
The solution 
This one is pretty obvious – use your printer less, saving paper and in turn, trees. When you can view, edit and close work orders right on your mobile device, there's no need to print them anymore.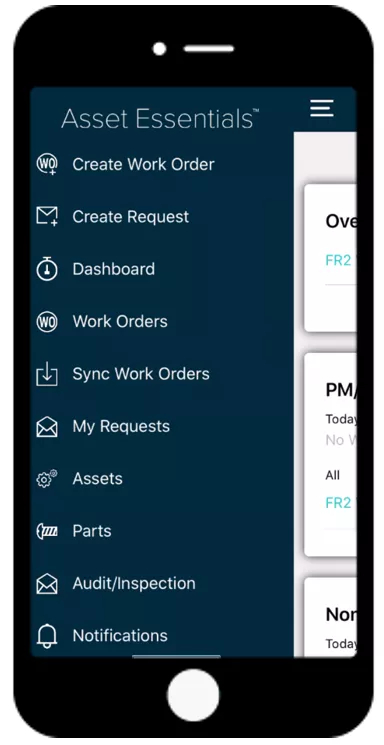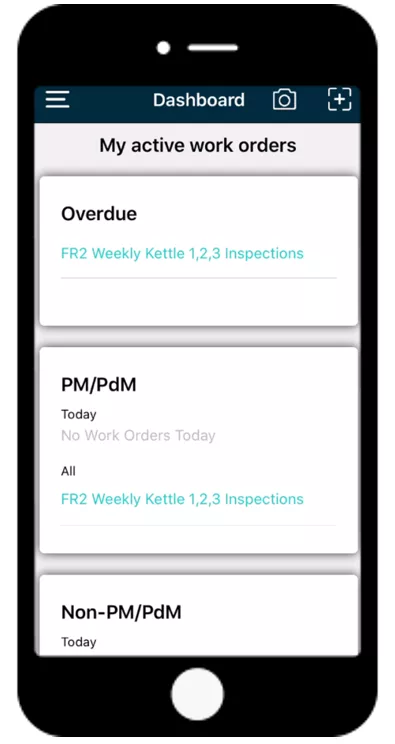 Having your CMMS in the palm of your hand will not only save trees by avoiding paper, but give you real-time access to all your asset, work order and parts data.
Focus area: Optimizing spare parts management
It seems like such a simple thing: having the right part at the right time to support our maintenance operations. The negative ramifications of not having that part can be significant. 
"Stock-outs" or missing that critical spare part when the asset is down will extend downtime, mess up your operations and drive up costs. Likewise, having too many parts can hurt as it's expensive and can lead to waste. A poorly run spare-parts process is also bad for the planet, especially as it contributes to unnecessary deliveries (contributing to carbon emissions, etc.).
"Just in time" (JIT) inventory processes call for having a proper balance of the parts you need, when you need them. JIT inventory can have challenges, especially during a pandemic where the supply chain has issues. But it is important that you properly balance lead times with current business environment.
The solution
Optimize your parts and procurement through a CMMS.

When you are low on parts, order them! Automatic notification via email and mobile will help insure you avoid stock-outs.
Focus area: Optimize your energy consumption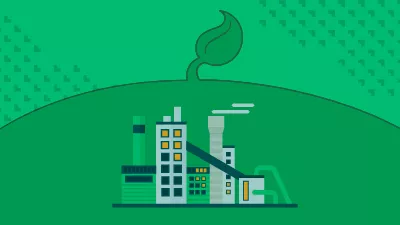 Regardless of industry, "energy" is one of the most expensive line items in your operating budget. It is also one of the most carbon-intensive and hurts our sustainability initiatives. 
We have already discussed how poorly maintained assets and buildings consume more energy than they should. Reducing your organization and team's impact on the planet starts with a cohesive, intelligent energy management program.
You should be able to answer these questions regarding your energy-related consumptions:
What is my energy consumption/spend especially relative to budget?
How does this compare to last year?
How much cost have we avoided?
Am I on target with my ENERGY STAR® sustainability initiatives?
The solution
Energy Manager™, our cloud-based tool for energy management, will help you quickly identify utility waste and track results of actions around energy conservation. 
This tool helps you centralize the management of your entire utility ecosystem, allowing you to make smarter operations decisions and solve complex energy problems. It will also help you better prioritize energy conservation projects. All of this will help your bottom line and your support your sustainability initiatives.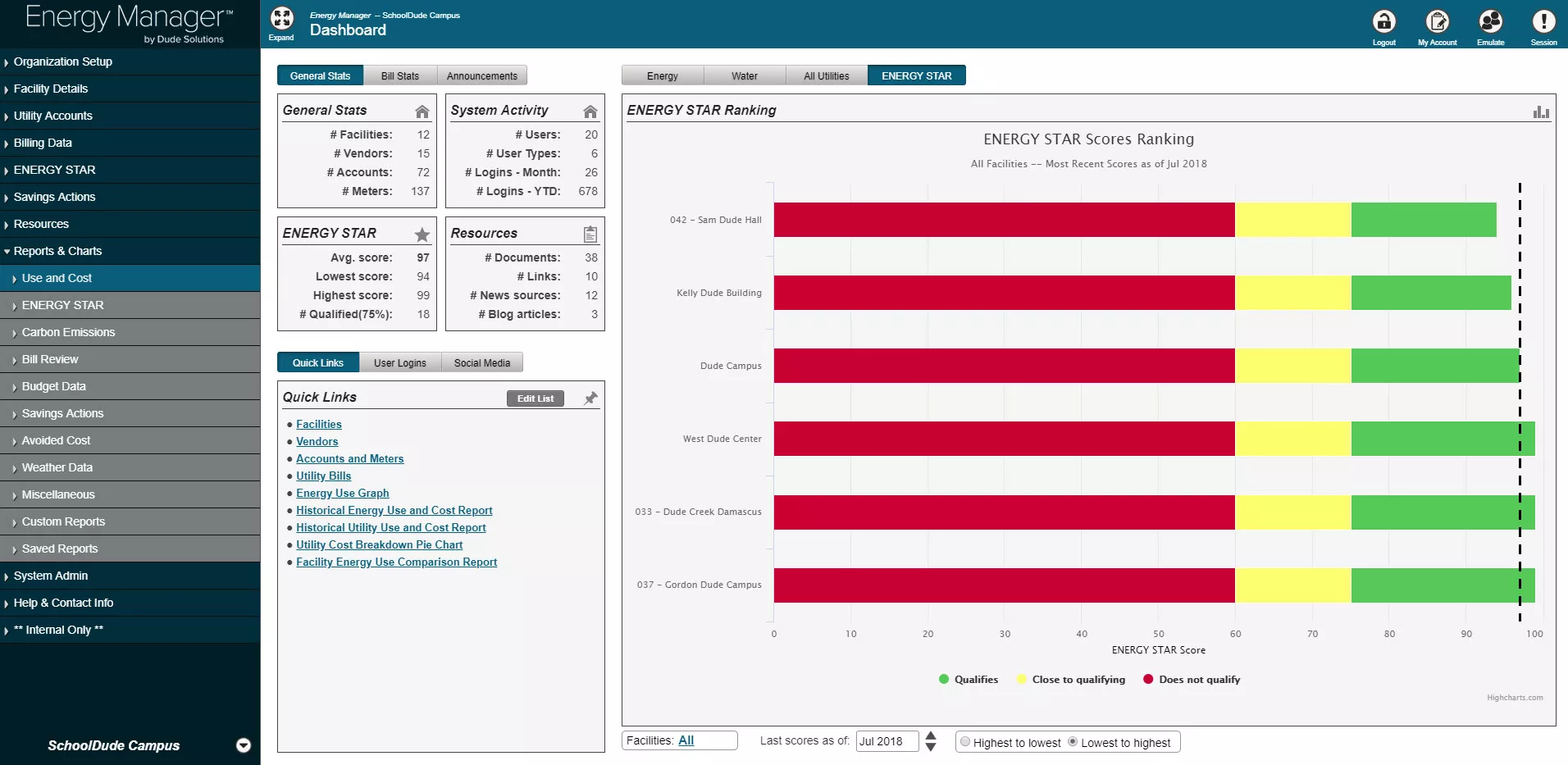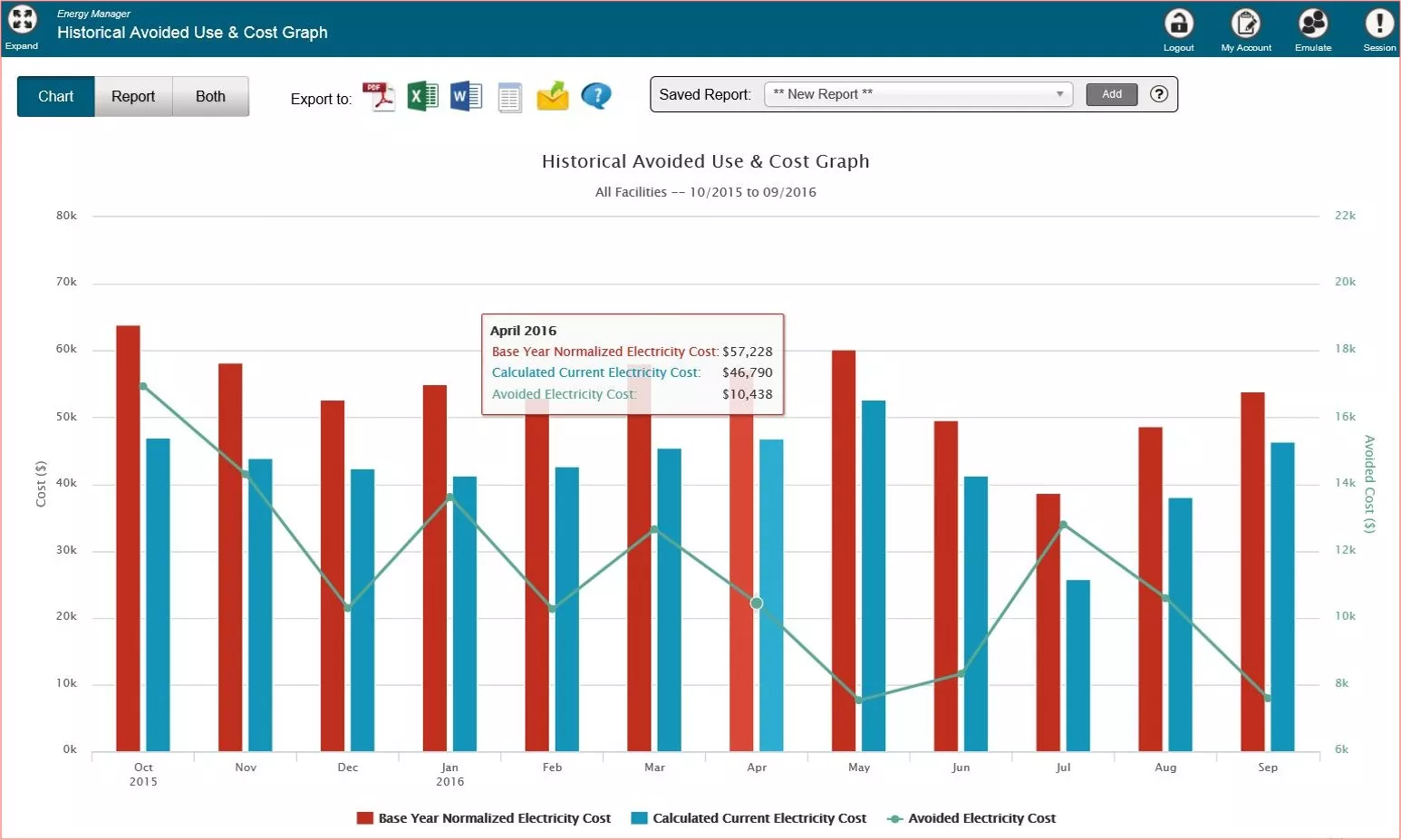 The screenshots above show a few of many examples of how monitoring, tracking and optimizing your energy is possible with Energy Manager.  
See some of our energy-saving results from clients: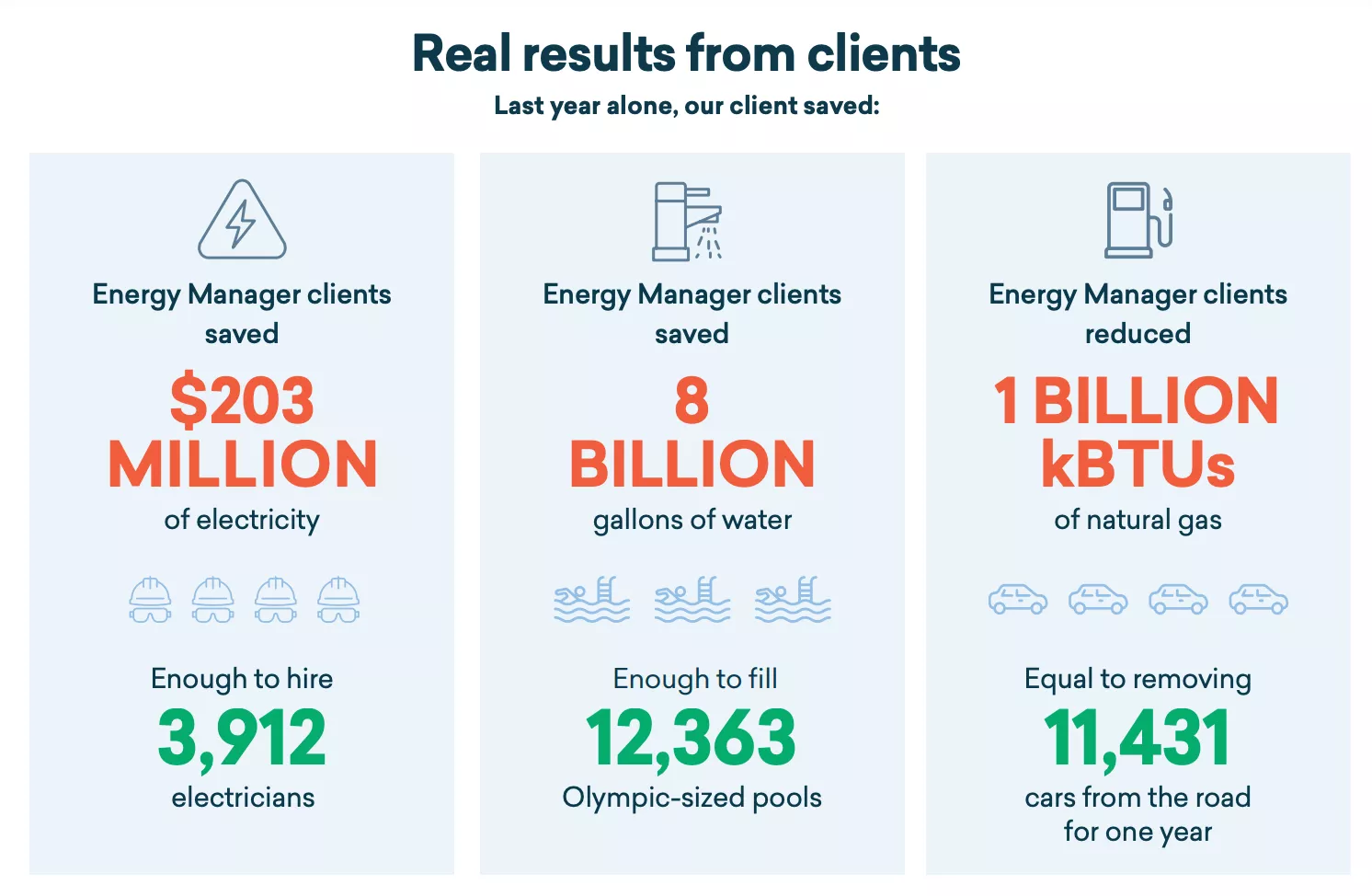 Focus area: Reducing waste
There are many forms of waste: 
Lost heating/cooling in our facilities
If you manufacture, "scrap & rework" are non-usable produced items
Poor water and waste systems create waste
These wastes increase costs and negatively impact your team and customer's environment.
Water is a good example, both on the input and output standpoint. Clean water, necessary for both human use and production processes, is an expensive commodity – like energy, you need to make sure there is no leakage, over-forced filtration, etc. The ripple effect on the ecosystems where we extract and replace these waters are also impacted.
The solution
Identify these sources of waste and tighten up the systems, facilities and assets at the root cause.
Identifying the sources ("bad actors") of your maintenance issues is essential. This could be by problem/cause, asset, team-member, etc.  All of this can be tracked and summarized based on managing quality work orders. Once identified, a plan – likely involving combination of better PM and training – can help improve. 
Focus Area: Move toward smart buildings/factories
Today's modern buildings and factories, including the assets within, are smarter than ever. The internet of things (IoT) connects to these buildings and assets allowing us to automatically and dynamically understand when they are not healthy and need maintenance. You don't need IoT to have a proactive maintenance operations culture, but it certainly helps. 
Intelligent, quicker notification that an asset or facility is under stress will allow your maintenance team to address before it is in peril, creating a much more preventive culture. This will be both financially and environmentally sustainable.
The solution 
Find a CMMS system and software partner that can help chart you through the ever-changing needs of modern facilities and factories.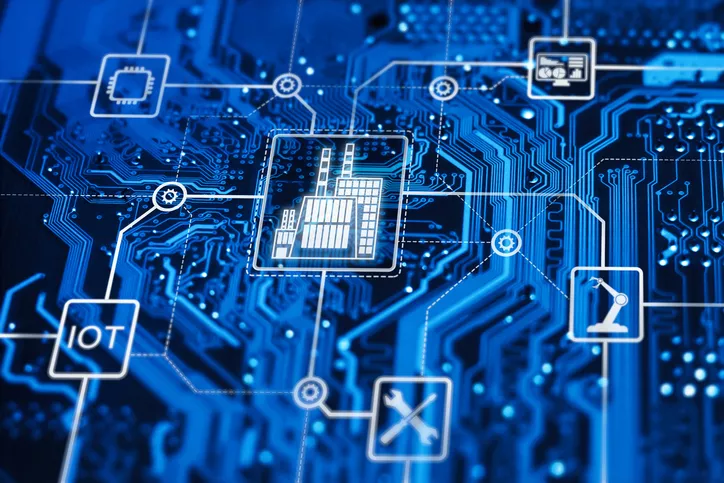 Why eco-friendly operations matter
For the record, I consider myself an environmentalist – have done so for many years. Although I have always been willing to pay a bit more for wind/solar power in my personal life. At the same time, I find it so wonderful that living and operating sustainably is not only good for the one planet we have, but it is also good for business by reducing costs. 
Operating lean and efficient through a proactive, preventive and even predictive maintenance operations will make our facilities and factories run smoother, create a better, safer environment for our teams and customers, and just as important: reduce costs. 
Operating sustainably is a wonderful combination: good for the planet and our bottom line.
Unlock a new level of sustainability and cost savings within your maintenance operations by requesting a demo of our CMMS software.