Blog
Managing critical production environments
Promoting uptime and mitigating risks in the food and beverage industry
Food and beverage manufacturing organizations face a variety of challenges and come with unique concerns. From safety related risks such as allergen and microbe contamination to temperature and packaging control failures, the industry is vulnerable and must take steps to avoid issues. The last several years have also brought it many new uncontrollable challenges, including inflation, rising energy prices, a labor shortage, and never-ending supply chain issues. While many of those issues have recently begun to ease, the industry still faces two hard truths: Macro-economic conditions are beyond our control, yet we must keep the products coming off the line.  
Even if the food and beverage manufacturing industry can't control inflation and increased costs, the solution is to use "lean" operations: work smarter, not harder, and do more with less. The legacy break/fix mentality cannot work in today's manufacturing operations; you will risk high operational costs, an unsafe and inefficient workplace, and poor-quality production. Modern technology, best practices, and a lean operational strategy will help immensely.
What is CMMS? 
A computerized maintenance management system (CMMS) is cloud-based software for keeping track of your assets and issuing work orders. Modern CMMS programs are not constrained to desktop computers — they are available on mobile devices and include offline connectivity. 
Key features of a CMMS include: 
Asset/Facility Management: detailed asset/line/facility information, history, operating procedures, and more 
Team Optimization: preventive, predictive, and corrective work orders management, safety, and compliance 
Spare Parts and Procurement: optimize spares ordering, suggest requisitions for low parts, and more 
Intelligent Data-Driven Analytics: tons of related data to show key performance indicators (KPIs), trends, reports, visualizations and more, helping drive up OEE, reducing downtime, and optimizing operations
Overall goals of a CMMS include reducing unplanned downtime, optimizing teams, making sure you have the right spare parts at the right time, providing intelligent data driven insights, and much more. With a CMMS you can do more with less and reduce reactive firefighting so your team can be used for more value-producing projects, especially preventive maintenance.
The P-F Curve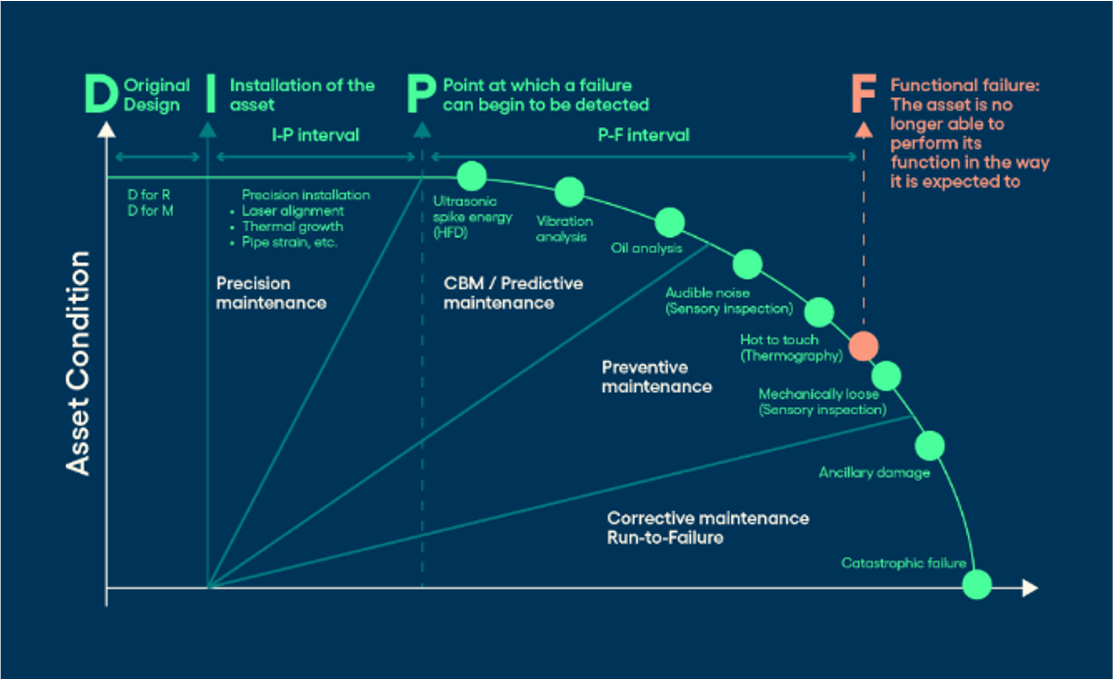 Good maintenance means staying on top of the P-F curve. "P" represents the first point at which a problem can be detected, such as a small increase in temperature inside a refrigerator. "F" represents the point at which the asset is no longer functioning, such as a refrigerator whose cooling unit has deteriorated and cannot keep food at proper levels. This is classic "run-to-fail" maintenance. Solving a problem at P-stage is much easier and less costly than solving it at F-stage. As maintenance and operations professionals, our job is to "push up the P-F curve"; in other words, move the point at which we solve the problem closer to P than F. We do this through optimizing maintenance operations, including preventive and ultimately predictive maintenance.
It is very difficult for team members to keep track of the earliest signs of every problem, especially for a food and beverage manufacturer with a huge amount of vulnerable assets. As operational professionals, we cannot be in all places at all times, but technology is here to help. The latest 4th industrial revolution (Industry 4.0) is all about connecting physical assets to data that can be stored, manipulated, and presented for team productivity, and CMMS is part of that revolution.
Modern Industry 4.0 Tech Helps the Food Industry 
Beyond software, connecting your CMMS directly to your physical world is essential to minimize catastrophic failures by catching problems early. Connecting to your assets has become an easy and affordable task that has quick payoff and will help "push up the P-F curve".
Many sensors can be retrofit on existing assets, then simply power-up, scan, and watch the data start coming in.
As data comes in directly from these sensors attached to the assets and are shown to be out-of-tolerance, if appropriate, a work order can be generated in the CMMS and the normal workflow kicks in: emails/alerts hit all appropriate team members and a remedy can be made.
There are many use cases:
Temperature sensors: A CMMS can accept data from temperature sensors to keep you on alert of rising/lowering temperatures in commercial refrigeration units 
Leak/water/humidity sensors: any sources of unwanted liquids, small or large, can be detected 
Electrical usage monitoring: applications include identifying brown/blackouts, spikes and related, indicating combination of possible maintenance issues as well as expensive energy overuse 
Vibration sensors: can detect anomalies at early stages, including cavitation detection in a pump well before a human can recognize
In all cases, utilizing sensors and other plant floor data will catch small problems before they turn into big, expensive, disruptive problems. Doing so allows your team to start "pushing up" the P-F curve.
Compliance 
The food and beverage industry is highly regulated worldwide. Compliance can be a daunting task, especially if managed manually. There are a plethora of regulatory compliance organizations impacting food and beverage organizations.
In all cases, the primary directive is to run a quality organization that prioritizes product, customer, and team safety. Using a CMMS is a key part of this process. We have all read articles in the news about companies that have major compliance issues. Beyond the bad press, there are many other profit-killing costs such as insurance price hikes, fees, and drop in credibility in business relationships. A CMMS can provide key assistance in many aspects of regulatory compliance, including: 
Documentation: A CMMS can easily record every aspect of your operations — safety procedures, step-by-step maintenance tasks, cleaning, and related. All maintenance and related quality operations are managed. 
Training: Apps can record procedures and training gaps, assign work orders for certain tasks, and remind you when to look over the team records. 
Tracking: All changes, edits, digital signatures and related are reworded in a CMMS. All maintenance history is available. Requests can easily show key information during an audit.
Best Practices Compliment Lean Operations 
Using a CMMS on its own will not make you regulatory-compliant. Best practices and methodologies, complemented by a CMMS, make for a well-run, efficient, and safe workplace that will maximize both morale and profit. There are many popular best practices that work very well for food and beverage manufacturing.
5S process: remember the principles of sort, set in order, standardize, sustain, and shine to maintain an organized workplace 
Gemba walk: take periodic walks around the workplace to watch how a process is done, speak to the people on the job, and talk about potential improvements
Many aspects of these best practices can be managed, automated, recorded, and reviewed in your CMMS.
The Payoff
Adding a CMMS to your operations is an investment, but the payoff is clear. Better compliance avoids costly fines, insurance hikes, and lost business.  Pushing up the P-F curve is a huge cost saver, creating more uptime and catching problems before they are difficult and expensive to fix. In the chart below, you can see that early, easy to remedy work orders are only 20% the cost of late-stage, more catastrophic work orders. Those late, "run-to-fail" work orders are 500% higher in operational expenses, not to mention significantly possible increased capital expenses. There is clearly a financial benefit to implementing a CMMS.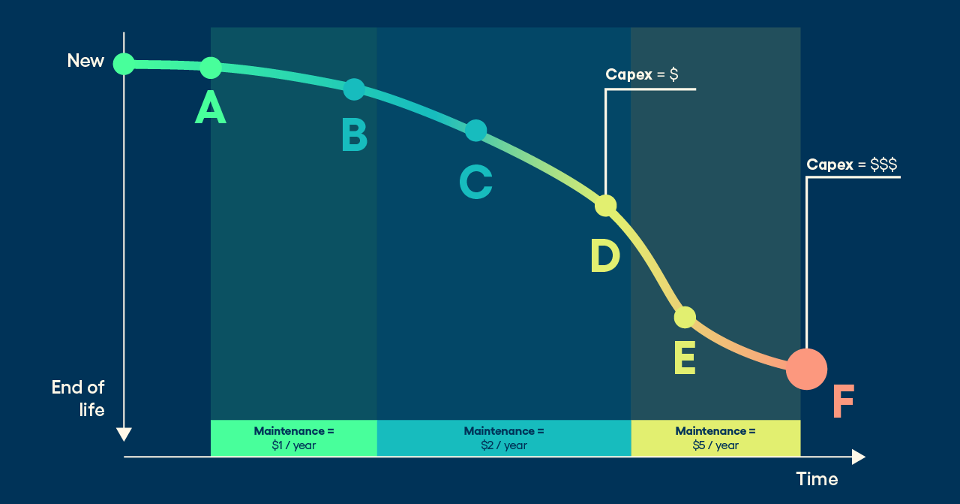 Conclusion
While a CMMS makes your team, operations, and organization stronger, more efficient, safer, and better able to handle regulatory compliance. There are macro-economic conditions beyond your control combined with busy operations, deadlines, and growth goals with your business, and managing your assets is key to steering all this in a positive direction. A world-class CMMS like Brightly Asset Essentials™ will help with all of this and create a more positive team environment and help with profitability.