Blog
Brightly Named Verdantix Green Quadrant® Leader
We've had a big year. In early March we traded in our old name, Dude Solutions, and launched our enterprise asset management vision for a *Brightly-er* future. We also added a few new acquisitions into our family. Recently, we were recognized as "a Leader" in the 2022 Verdantix Green Quadrant®: EAM Software report. 
Wahoo! 
So why are we so excited?
For starters, Verdantix takes a look at some of the most prominent EAM software vendors out there and examines the trends influencing growth in the EAM space. Trends we're pretty stoked to see like mobile functionality, rapid implementations and analytics for predictive maintenance strategies.
Yes, yes, yes.  
In the Green Quadrant analysis, Brightly earned a top position for both market momentum and product capabilities in the Leaders' Quadrant.
Quadruple yes.
Other than the obvious self-pats on the back, we're also energized about getting capabilities into our clients' hands to build more sustainable communities and better manage their facilities. We love seeing this shift in thinking for EAM across the globe. What a time to be in asset management! 
But don't just take our word for it 
If you're not familiar, Verdantix is an independent analyst firm that has spent more than a decade analyzing the latest technology innovations and delivers impartial, evidence-based assessments specifically in the fields of operational excellence, ESG and sustainability, smart building technology, and environmental health and safety.  
The 2022 Verdantix Green Quadrant®: EAM Software report dives into a fact-based comparison of EAM vendors in a process that includes live product demos, interviews, and vendor responses to a 207-point questionnaire, as well as data analysis from a global survey of 256 decision-makers. 
That's just part of why being named a Leader in the market momentum and product capabilities category is not something we take lightly. 
In an evolving market, Brightly shines in security and functionality 
The report reflects the current state of customer requirements and product capabilities in EAM. Verdantix Green Quadrant methodology supports purchase decisions by identifying vendors and relevant purchase criteria and provides an evidence-based assessment of the options in the market. All sub-criteria are scored between the values of zero ('no capability') and three ('best in class'). 
So where did Brightly land? 
Application and data center security  
Brightly scored 2.2/3.0 for application and data center security, which is significantly above the Green Quadrant average of 1.8/3.0 for this category.  
Brightly recorded 99.9% compliance with service level agreements (SLAs). 

Mobile app functionality 
Brightly scored 1.8/3.0 for its mobile app product portfolio and use case coverage, against an average of 1.2/3.0. Functionality is particularly strong for workers recording job progress: Brightly EAM users can view job details and record work progress on the mobile app, update attributes related to the job such as risk assessments and attach associated photographs and documents.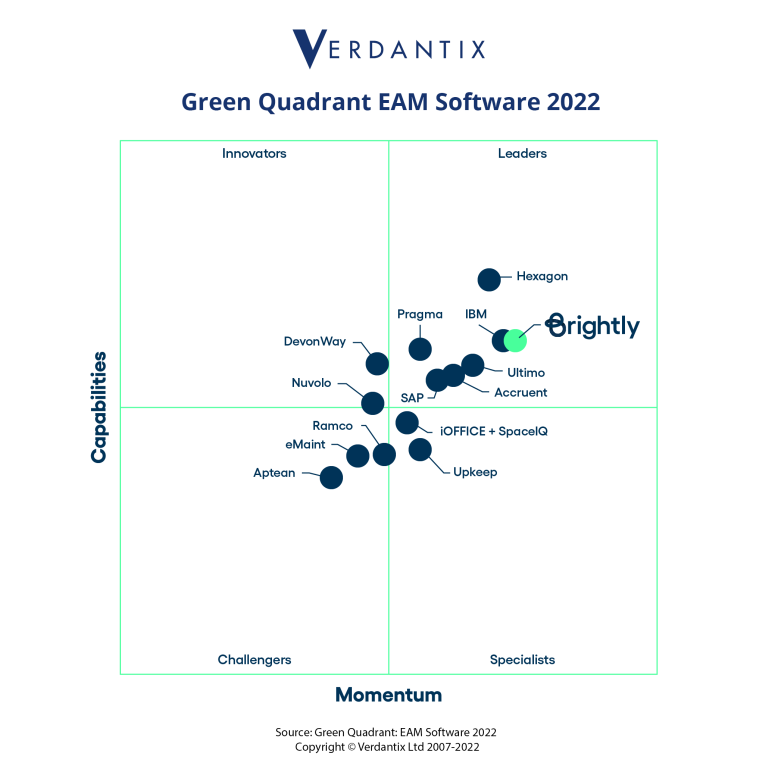 We're thankful for our high marks and encouraged to tackle the areas of improvement highlighted by the report. As the EAM software market focuses on cost savings, maintenance strategy, digital transformation and sustainability, Brightly is here to support the industry today and into the future.