Blog
Everything was Brightly: A year in reflection
At Brightly, we are driven by an undercurrent of sustainability—how we can more effectively operate, the future we envision for our clients and communities and how we can create the tools to feasibly get there. Sustainability is in our DNA.
In 2022, we took many strides to further this mission. In addition to introducing a new name and brand that reflects our commitment to helping clients operate smarter assets and sustainable communities, we added new partners and resources.
We joined some of the top companies in the enterprise asset management (EAM) space and even had a little fun along the way.
Below are a few of our favorite highlights from the past year.
EPL acquisition adds enhanced capabilities to our toolkit
We started out 2022 with the acquisition of Energy Profiles Limited ("EPL"), a Toronto, Canada-based software provider that shared our mission to help our clients better reach their sustainability and environmental goals. Acquiring EPL gave us the ability to bundle EAM, strategic asset management (SAM) and energy management systems (EMS) into a single platform.
Allow us to reintroduce ourselves
On March 8, 2022, we rebranded our company from "Dude Solutions" to better match our strategic goals for the future. We believe "Brightly" is an optimistic, forward-looking name that reflects our personality and warmth while symbolizing the relationships built over more than two decades with employees, clients and partners worldwide.
With 20 years of experience, we're the same company and partner that you've come to know and trust. Updating our name to Brightly aligns with our planning for what's next, connecting our global employees and clients under one vision, and uniting those seeking to improve infrastructure. The new name also signifies our commitment to keeping the world's assets running sustainably into the future.
We're supercharged by Siemens' investment in Brightly
On June 27, 2022, we announced our acquisition by Siemens and our new place in the Siemens Smart Infrastructure (SI) portfolio. Siemens strives to build smart communities enabled by digitalization and intelligent systems—and that resonates with our mission. We're excited about the opportunities and market potential of our strategic alignment with Siemens and look forward to creating safe, sustainable and thriving communities for years to come.
With digital transformation and environmental, social and governance (ESG) mandates only set to increase, our global community needs intelligent software solutions now more than ever. Now with support from Siemens, we can better help our clients create a future with more intelligent operations—and more sustainable communities.
Our light shined throughout the year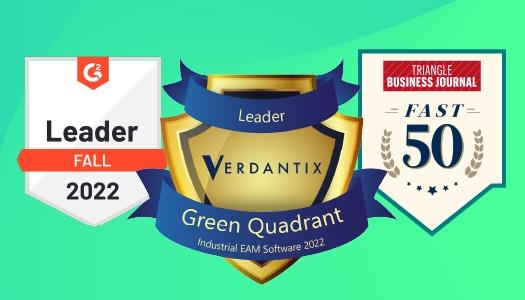 Recognized as a leader by global research firm Verdantix.
Brightly was named one of the top companies shaping the EAM space, in the 2022 Verdantix Green Quadrant®: EAM Software report.
Brightly named #1 solution in facility management in 2022 G2 Grid® Reports
For the Fall 2022 G2 Grid® Reports, G2 reviewed software solutions across several industries and categories.
Brightly Software #25 on Triangle Business Journal 2022 Fast 50
We're thrilled to be recognized as one of the fastest-growing companies in our hometown of Raleigh-Durham.
The future is Brightly! We're looking forward to Illuminate in 2023
​We had a blast in Brisbane, Australia and Birmingham, UK for Illuminate 2022. Next year, we're setting up camp in our hometown of Raleigh, North Carolina, and gathering the brightest minds in asset management and operations. Leaders can connect, exchange expertise and uncover new opportunities to realize a brighter future. We hope you will join us at the Illuminate North America conference from March 12–15, 2023, for more than 70 sessions, extended learning lab hours and a sneak peek at our next technological investment. (Check out these 5 sessions you won't want to miss and stay tuned for more info on other Illuminate events around the ​​globe).
We're excited for where we are and where we're going. At Brightly, we've had the wonderful opportunity to help our clients undertake some exciting and important initiatives, such as:
From massive digital transformation projects to internal milestones, We're incredibly proud of our team. We are optimistic for the future and look forward to continuing to partner with all of you and helping build more efficient and sustainable communities.
At Brightly, we help clients use their data to save money, identify utility waste, prove funding requests and improve operational efficiency. With decades of experience, our team is ready to partner with you and help you reach your maintenance and operations goals. Ready to build a brighter future? Request a demo today!